---
Sun Ten Works with Local Community to Promote Green Spaces & TCM
"An Oasis in the City"
---
In 1950, Dr. Hong-yuan Hsu, founder of Sun Ten Pharmaceutical (Sun Ten), purchased a plot of land in Taipei. Devoting most of his time studying traditional Chinese medicine for the betterment of mankind, he realized that others could put his land for better use. Since then, Sun Ten had leased the property to organizations, such as the Central Bank of Taiwan, National Science Council, Mackay Memorial Hospital, and Young Men's Christian Association, free of charge for the past fifty-some years, despite its appreciating value.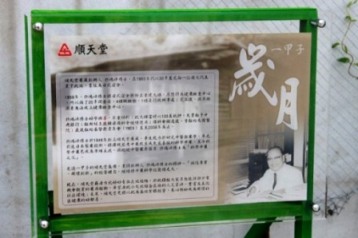 Introduction of Dr. Hong-yuan Hsu & Sun Ten Pharmaceutical
Sun Ten general manager Ms. Hsueh-lin Wang commented: "This land marks the beginning of Sun Ten. By cooperating with the government's project, planting medicinal herbs that the general public may be familiar with in use, but rarely get the chance to experience their plant form, I hope this little haven, combined with local cultural assets, can enrich and beautify the surrounding community while fostering a friendly learning environment."
Instead of leasing the property, Sun Ten has decided to join the green spaces beautification project of Taipei City Council, a second-phase plan to promote the Taipei International Flora Expo. On June 9th, the Wen Luo-Ting Herbal Garden for Reading was officially open to the public.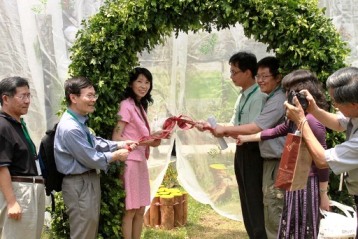 Sun Ten general manager Ms. Hsueh-lin Wang unveils the Wen Luo-Ting Garden
"The general public often uses traditional Chinese herbs, but they are not necessarily knowledgeable about traditional Chinese Herbs," observes Dr. Wu-zhang Zhuang, deputy director of Brion Research Institute of Taiwan. "For example, Astragalus Root (Huang Qi) is commonly used as an in people's everyday lives, but it's rare to see the plant where the herb originates from. The garden features other commonly used plants, such as the Honeysuckle Flower (Jin Yin Hua), Houttuynia (Yu Xing Cao). In the future, the rare and expensive plants, such as the medicinal Moutan (Mu Dan) may be included. To keep visitors coming, Sun Ten will have Chinese herbal experts give seminars about these herbs, sponsor tea tasting events, and encourage the community to adopt herbs."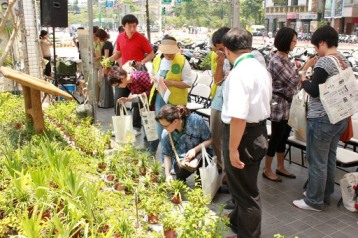 Curious pedestrians walk by to take a closer look at the adoptable herbs
.
Sun Ten envisioned an oasis for the public; a spiritual and physical sanctuary filled with the scent of fresh herbs; a natural, refreshing, and cultural space for reading. The herbal garden would educate future generations the origins, benefits, and usages of traditional Chinese medicine. Furthermore, some flowering herbs would blossom as a warm preamble to the up-coming Taipei International Flora Expo.
Collaborating with the local bookstore owners, the land has transformed into the open space "Wen Luo-Ting Herbal Garden for Reading," featuring hundreds of unique herbs, posters of ancient poetic verses about herbs, tree stump chairs, and book shelves. These bookstores, along with the local community center, plan to hold reading events at the garden in the near future.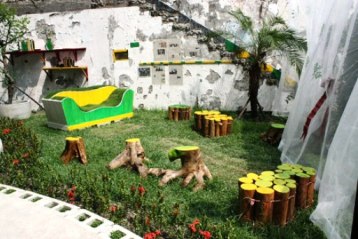 A corner of Wen Luo-Ting Herbal Garden for Reading
The integration between the art events promoted by local businesses, herbs used in traditional Chinese medicine and the relationships between plants and mankind truly makes "Wen Luo-Ting Herbal Garden for Reading" a unique haven.