---
Sun Ten Malaysia Hosted a Seminar on Anti-Aging Using TCM
---
Sun Ten Malaysia hosted a charity TCM seminar to the public in Kuala Lumpur on the 18th of June with SIN CHEW Daily, the most widely-read Chinese-language daily in Malaysia. Dr. Yuan-Shiun Chang from the China Medical University was invited to deliver a speech on "Traditional Chinese Medicine for Anti-Aging."
In his lecture, Dr. Chang pointed out that "Nowadays people are too busy preparing crude Traditional Chinese Medicines as both medicine and food. It is not necessary to spend time on home decoction." He suggests there are effective TCM treatments that provide safe and simple means for anti-aging benefits, such as chrysanthemum tea, ginseng tea, goji berry tea, hoelen porridge, goji porridge, Ba Zhen Tang, and Si Shen Tang.
Dr. Chang also gave speeches at a Traditional and Complementary medicine seminar of Malaysian Pharmaceutical Society for pharmacists in Kuala Lumpur, Malaysia. The topics include "Herbal Medicines: What Are They? Separate the Myth from the Fact: Their Safety, Efficacy and Quality" and "Role of Pharmacists in Integrated Healthcare - Overseas Experience".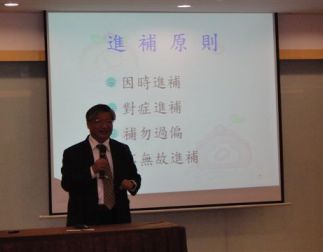 [About the Speaker]
Dr. Yuan-Shiun Chang is the professor of Pharmacognosy in the School of Pharmacy, China Medical University. He is also the consultant of Chinese Crude Drug Pharmacy at the University Hospital of China Medical University from 2000 until present. He received a doctor of Pharmacognosy from the University of Illinois in Chicago, Illinois U.S.A. He is the Director of the Institute of Chinese Pharmaceutical Sciences, China Medical University from 2001 to 2007.