Modern Science and TCM Exhibition in Singapore
---
Modern Science and TCM Exhibition in Singapore
---
"When Chinese Medicine Meets Modern Science"
In order to promote and make traditional Chinese medicine (TCM) relevant to the public in Singapore, the Singapore Chinese Druggists Association (SCDA) is showcasing its scientific and technological advances - for the first time. The exhibition was held at the Suntec City Convention Centre, in conjunction with the Singapore Book Fair 2010 from May 28 to June 6.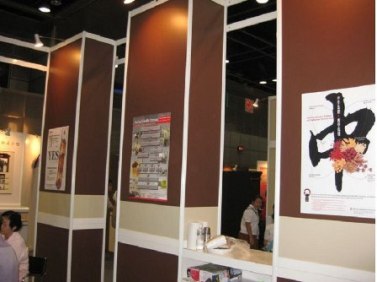 The Exhibition Stand of Sun Ten
Sun Ten (Singapore) Private Limited was one of the major sponsors of this event.

A demonstration module of Chinese herb sources and medicinal herbs was offered by Sun Ten. The display shows the effects and origins of different herbs. The visitors were absorbed by interesting information of TCM. In order to attract younger visitors, students from high school and elementary school played host at the exhibition. The student guide said: "I can received about 6 correct answers from 10 questions, which means people have a basic knowledge of Chinese medicinal herbs."
Visitors also experienced TCM wisdom personally, such as Tui Na massage, TCM consolation, herb market locations, and traditional tools at the exhibition booths.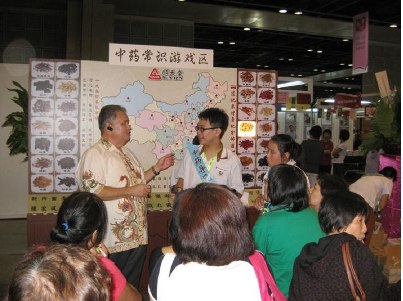 The demonstration module of Chinese medicinal herbs and herb sources (sponsored by Sun Ten)
Besides of the exhibition, it's also SCDA's 70th anniversary. in order to celebrate this anniversary, it held a one-day conference at the Marina Sands Expo and Convention Centre on May 30. Dr. Wu-chang Chuang, the director of Sun Ten Herb Sourcing Team, was invited to give a presentation at this conference. The theme of Dr. Chuang's speech is the importance of authenticity, safety, and quality of raw herbs. He shared with the audience his experiences and discoveries from a series of cultivation site inspections.
The exhibition and conference created a good opportunity to expand traditional Chinese medicine in Singapore. The millennium-long TCM is popularized worldwide, and its wisdom will become precious heritage to the next generation.
Related Posts