Review Article: Hypoglycemic Herbs and Their Action Mechanisms
---
Hypoglycemic herbs and their action mechanisms
Hongxiang Hui*1,3, George Tang2 and Vay Liang W Go3
1Department of Medicine, Veterans Affairs Greater Los Angeles Healthcare System, Los Angeles, 90073, USA,
2Division of Medical Genetics, Cedar-Sinai Medical Center, Los Angeles, California 90048, USA and
3UCLA Center for Excellence in Pancreatic Disease, David Geffen School of Medicine, University of California, Los Angeles, California 90095, USA
---
Abstract
Conventional drugs treat diabetes by improving insulin sensitivity, increasing insulin production and/or decreasing the amount of glucose in blood. Several herbal preparations are used to treat diabetes, but their reported hypoglycemic effects are complex or even paradoxical in some cases. This article reviews recent findings about some of the most popular hypoglycemic herbs, such as ginseng, bitter melon and Coptis chinensis. Several popular commercially available herbal preparations are also discussed, including ADHF (anti-diabetes herbal formulation), Jiangtangkeli, YGD (Yerbe Mate-Guarana-Damiana) and BN (Byakko-ka-ninjin-to). The efficacy of hypoglycemic herbs is achieved by increasing insulin secretion, enhancing glucose uptake by adipose and muscle tissues, inhibiting glucose absorption from intestine and inhibiting glucose production from heptocytes.
Background
Diabetes mellitus is a disease in which blood glucose levels are above normal [1]. There are three main types of diabetes, namely type I diabetes (juvenile diabetes), type II diabetes and gestational diabetes. In type I diabetes, theβcells of the pancreas do not make sufficient insulin. Type II diabetes is the major form of diabetes, accounting for approximately 90–95% of all diabetic cases. This form of diabetes usually begins with insulin insensitivity, a condition in which muscle, liver and fat cells do not respond to insulin properly. The pancreas eventually loses the ability to produce and secrete enough insulin in response to food intake. Gestational diabetes is caused by hormonal changes during pregnancy or by insulin insufficiency. Glucose in the blood fails to enter cells, thereby increasing the glucose level in the blood. High blood glucose, also known as hyperglycemia, can damage nerves and blood vessels, leading to complications such as heart disease, stroke, kidney dysfunction, blindness, nerve problems,
gum infections and amputation [2]. Insulin injections, glucose-lowering drugs and lifestyle changes, such as exercise, weight control and diet therapy, are recommended for treating diabetes. Hypoglycemic herbs are widely used as non-prescription treatment for diabetes [3]. However, few herbal medicines have been well characterized and demonstrated the efficacy in systematic clinical trials as those of Western drugs.
This review article highlights the current researches on the efficacy, side effects and action mechanisms of hypoglycemic herbs in vitro, in vivo and ex-vivo systems [4].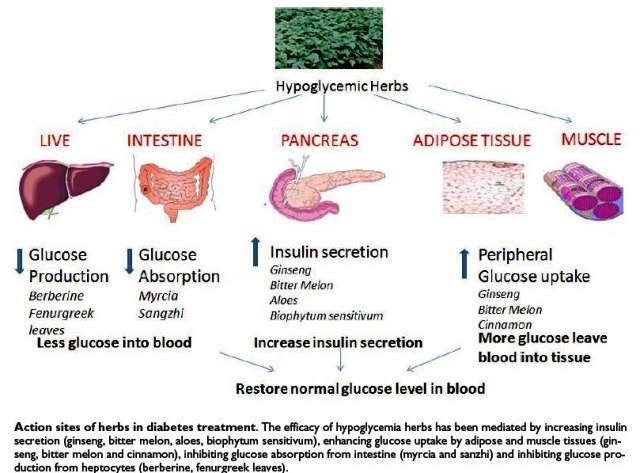 Anti-diabetes herbs
Certain herbs may lower blood glucose [3,11]; however, their test results are subject to several factors. Firstly, each herb contains thousands of components, only a few of which may be therapeutically effective [12]. Secondly, different parts of an herb have different ingredient profiles. Moreover, different extraction methods may yield different active ingredients [13]. Thirdly, herbal formulae containing multiple herbs may have synergistic effects [14,15]¡K
Ginseng (Renshen):

The therapeutic potency of ginseng mainly relies on its geographical locality, dosage, processing and types of diabetes. Panax ginseng (Chinese or Korean ginseng) has the highest therapeutic potency. Panax quinquefolius (American ginseng) is the medium potency grade ginseng, while Panax japonicus (Japanese ginseng) is considered the low potency grade ginseng. Thus, the most commonly used therapeutic ginseng is Panax ginseng. The anti-tumor, angiomodulating and steroid-like activities of ginseng have been recently delineated [16]¡K.
Coptis chinensis (Huanglian):

Coptis chinensis is commonly used to treat diabetes in China. Found in plant roots, rhizomes, stems and barks, berberine is an isoquinoline alkaloids and the active ingredient of Coptis chinensis¡K
This article is an Open Access article published in Chinese Medicine and originated from Bio Med Central.
Related Posts