Chronic Pain and CAM: What the Science Says
---
Chronic Pain and CAM: What the Science Says
---
Low-Back Pain
Reviews of research on

acupuncture

,

massage

, and

spinal manipulation

for chronic low-back pain have found evidence that these therapies may be beneficial.

Clinical practice guidelines

issued by the American College of Physicians/American Pain Society in 2007 recommend these therapies and five other nonpharmacologic (nondrug) approaches for patients with back pain who do not improve with medication, education, and self-care (other recommended approaches are cognitive-behavioral therapy, exercise therapy, progressive relaxation, intensive interdisciplinary rehabilitation, and

yoga

).

Reviews of research on other CAM therapies that people sometimes use for chronic low-back pain, such as various herbal remedies and prolotherapy injections, generally have found limited or no evidence to support their use for this purpose, or the evidence is mixed.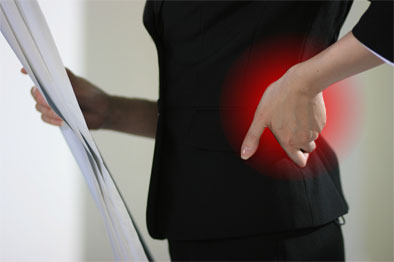 Arthritis
Among CAM approaches that have been studied for pain relief in osteoarthritis are acupuncture, glucosamine/chondroitin, herbal remedies, mineral baths (balneotherapy), and

tai chi

. Many of these approaches have also been studied for rheumatoid arthritis.

Overall, although some studies of CAM practices have had promising results, the evidence generally is limited or mixed. A systematic review article on acupuncture for osteoarthritis concluded that acupuncture may lead to small improvements in pain and function.

However, in a large clinical study, known as

GAIT (Glucosamine/chondroitin Arthritis Intervention Trial)

, the popular dietary supplements glucosamine and chondroitin sulfate alone or in combination did not significantly relieve knee osteoarthritis pain among all participants, although the combination did help a subgroup who had moderate-to-severe pain.
Reviews have found evidence that gamma linolenic acid (GLA, from

evening primrose

and certain other plant oils) may relieve rheumatoid arthritis pain, although further research is needed.

Reviews have also noted evidence that dietary supplements known as ASUs (avocado-soybean unsaponifiables) and devil's claw may provide relief from osteoarthritis pain.
Headache
Reviews of research on acupuncture for reducing the frequency and intensity of migraine and tension-type headaches conclude that patients may benefit from acupuncture therapy.

One review found evidence that spinal manipulation may help patients suffering from chronic tension-type or cervicogenic (neck-related) headaches.

Some research suggests that the herb

feverfew

may prevent migraine attacks, but results from clinical trials are mixed, and additional research is needed.
Neck Pain
Reviews of research on manual therapies (primarily manipulation or mobilization) and acupuncture for chronic neck pain have found mixed evidence regarding potential benefits and have emphasized the need for additional research.

One review noted that clinical guidelines often endorse the use of manual therapies for neck pain, although there is no overall consensus on the status of these therapies.
Other Types of Pain
Various CAM approaches have also been studied for other types of chronic pain, such as facial pain, including from temporomandibular joint (jaw) disorder; nerve pain associated with diabetes and other conditions; cancer pain; and pain experienced by people with

fibromyalgia

.
Research reviews generally have found some promising evidence of effectiveness for some CAM therapies but often emphasize that additional research is needed before treatment recommendations can be made.
Other CAM Approaches
People suffering from various types of chronic pain sometimes turn to other CAM practices, such as hypnotherapy,

meditation

, or qi gong. Again, reviews of the research on these therapies have found some evidence of effectiveness but note the need for further studies.
Although

static magnets

are widely marketed for pain control, a review of the related research concludes that the evidence does not support this practice.

In addition, a review of research on eight mind-body interventions for older adults with chronic pain concluded that although evidence of efficacy is limited, the therapies appear to be feasible and safe for this population. The reviewers offer suggestions for future research.
This article is originated from NCCAM clinical digest, published on Sept 2010.
Related Posts