Chinese Herbal Medicine Passes FDA Phase II Clinical Trials
---
Chinese Herbal Medicine Passes FDA Phase II Clinical Trials
---
There's a new trend emerging in the field of traditional Chinese medicine; an increasing focus on legitimizing herbs as healthier alternatives to synthetic chemicals normally used as pharmaceutical drugs.
Several producers of herbal medicines are pursuing FDA clinical trials to market their products as drugs in U.S. and European markets. In order to conduct human clinical trials, a product must be designated by FDA as an investigational new drug (IND), which requires varying levels of evidence that the product is safe for testing in humans and that the clinical protocol is suitably designed. (This product was the first TCM product to obtain IND status in the United States in 1997.) Then, Phase I consists of testing the drug within small groups to determine safety, dosage range, and side effects, and in Phase II researchers study the drug on a larger group of people to determine safety and efficacy. In its third phase of clinical trials, this product will be studied on large groups of people to confirm efficacy, monitor side effects, compare it to commonly used treatments, and collect safety information.
In a search using the key words "Traditional Chinese Medicine" on the National Institutes of Health "clinicaltrials.gov" Web site spanning 174 countries and more than 95,000 trials, 148 studies come up, with status varying from "not yet recruiting" to "completed." This doesn't mean that all of the studies are focused on FDA-approved drug development, but it demonstrates that more of TCM products are being studied.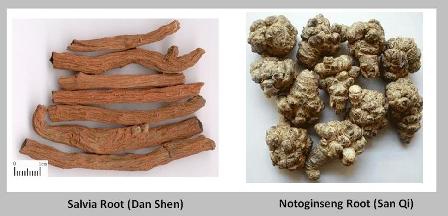 These 2 herbs are comprised a Chinese herbal remedy called Salvia & Notoginseng Complex Herbal Extract Formula (Combination Dan Shen Pian).
One breaking news was release on Oct 2010, the first formulation with Salvia Root (Radix Salviae miltiorrhizae, Dan Shen) and Notoginseng Root (Radix Notoginseng, San Qi) has passed Phase II clinical trials in July 2010, and will soon begin Phase III investigations, raising the possibility that it could become the first Traditional Chinese Medicine (TCM) product to obtain drug approval from the US Food and Drug Administration (FDA). This formulation, known earlier as Salvia & Notoginseng Complex Herbal Extract Tablet (Combination Dan Shen Pian), commonly applied for increasing blood circulation, and promoting the flow of qi.
Source:
http://cms.herbalgram.org/heg/volume7/10October/TCMproductinFDAIIItrials.html?t=1285951198
Related Posts