Where to Get Herbal Medicine After EU Herb Laws?
---
Where to Get Herbal Medicine After EU Herb Laws?
Unlicensed Herbal Medicines Must Be Prescribed by a Registered Herbal Practitioner
---
The European Directive on Traditional Herbal Medicinal Products (THMPD) formally The Directive 2004/24/EC amending, as regards traditional herbal medicinal products, Directive 2001/83/EC on the Community code relating to medicinal products for human use was established by the European Parliament and Council on 31 March 2004 to provide a simplified regulatory approval process for traditional herbal medicines in the European Union (EU). Previously, there was no formal EU wide authorization procedure, so each EU member state regulated these types of products at the national level.

Patients have lost access to hundreds of herbal medicines today, after European regulations came into force. Sales of all herbal remedies, except for a small number of popular products for 'mild' illness such as echinacea for colds and St. John's Wort for depression have been banned. For the first time traditional products must be licensed or prescribed by a registered herbal practitioner Both herbal remedy practitioners and manufacturers fear they could be forced out of business as a result.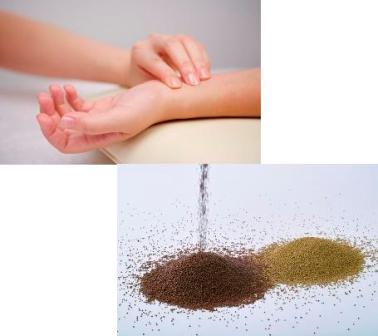 People still can get herbal medicines via authorized herbal practitioners
Some of the most commonly used products were saved after the Health Secretary Andrew Lansley approved a plan for the Health Professions Council to establish a register of practitioners supplying unlicensed herbal medicines.
However, many remedies were lost as it was only open to those who could afford the licensing process which costs between £80,000 to £120,000. At least 50 herbs, including horny goat weed (so-called natural Viagra), hawthorn berry, used for angina pain, and wild yam will no longer be stocked in health food shops, says the British Herbal Medicine Association.

The 2004 EU directive demands that a traditional herbal medicinal product must be shown to have been in use for 30 years in the EU - or at 15 years in the EU and 15 years elsewhere - for it to be licensed. The UK drug safety watchdog, the Medicines and Healthcare Products Agency, has issued more than a dozen alerts in the past two years, including a warning last month over a contaminated weight loss pill called Herbal Flos Lonicerae (Herbal Xenicol) due to concerns over possible side-effects.
Mr Lansley, in a written statement, said the Government wanted to ensure continuing access to unlicensed herbal medicines via a statutory register for practitioners 'to meet individual patient needs'.
There are key eligibility criteria for a herbal medicine to qualify under this legislation:
Only herbal medicines that are administered orally, externally, or by inhalation are suitable. Any medication that requires intravenous administration will not be authorized.

Only herbal medicines that are intended to be used without supervision by a medical doctor will be authorised by this scheme.

The intended use of a herbal medicines will only be authorised on the basis of its traditional history and/or the recognised pharmacological properties of the herbal ingredient(s).

Vitamins and minerals may be added to the herbal medicine provided that their use is ancillary to the herbal ingredient(s)

If the competent EU member judges that the herbal medicine fulfills the criteria for a marketing authorization, then an authorization under Traditional Herbal Medicines Product Directive should be granted.

Herbal medicine products manufactured using isolated active ingredients from plants will not be regarded as herbal medicines and will not receive an authorisation under this scheme.
References:
http://www.dailymail.co.uk/health/article-1382135/Herbal-medicines-banned-EU-directive-comes-force.html
Related Posts