Commonly Used Chinese Herb Formulas with Illustrations - Rehmannia Six Formula (Liu Wei Di Huang Wan)
---
0408六味地黃丸 (Liu Wei Di Huang Wan)
Six-Ingredient Pill with Rehmannia
---
【Formulation】
| | | | |
| --- | --- | --- | --- |
| Chinese Name | Pharmaceutical name | Pin Yin Name | English Name |
| 熟地黃 | Radix Rehmanniae praeparata | Shu Di Huang | |
| 山茱萸 | Fructus Corni | Shan Zhu Yu | |
| 山藥 | Rhizoma Dioscoreae | Shan Yao | |
| 茯苓 | Poria | Fu Ling | |
| 澤瀉 | Rhizoma Alismatis | Ze Xie | |
| 牡丹皮 | Cortex Moutan | Mu Dan Pi | |
【Classic Literature Reference】
Xiao Er Yao Zheng Zhi Jue (Key to PediatricPrescriptions, 1119).
Compiler: Qian, Yi.
【Indications】
Traditional: Liver and Kidney yin deficiency marked by soreness and weakness in the loins and legs, dizziness, tinnitus, night sweating, spontaneous and nocturnal emissions, tidal fever, a hot sensation in the palms and soles, thirst, dry mouth and throat, a red tongue with little coating, and a thready and rapid pulse.
Modern: Menopause syndrome, hypertension, hyperthyroidism, infertility, cancer, chronic prostatitis, diabetes, chronic nephritis, nocturia, neurasthenia, optic neuritis, central retinitis, and lupus.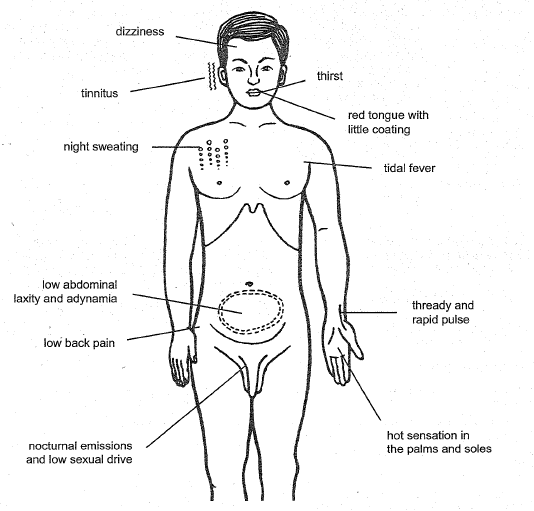 Pattern of Liver and Kidney Yin Deficiency
【Herbs and Actions】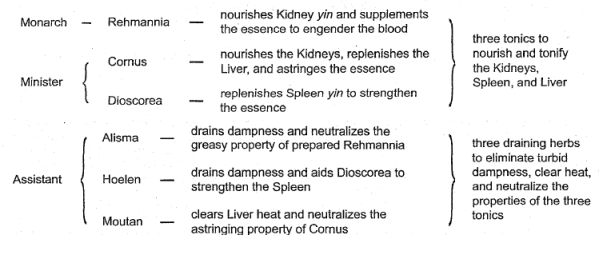 Join our member to get full-text article! Join Free!
【Clinical Applications】for members only
【Caution and Contraindications】for members only
【Formulas Differentiation】for members only
【References】for members only
Related Posts