Introduction of Popular Cold and Flu Dispeller with Illustrations: Pueraria Combination (Ge Gen Tang)
---
1314 葛根湯 (Ge Gen Tang)
---
【

Formulation

】
| | | | |
| --- | --- | --- | --- |
| Chinese Name | Pharmaceutical name | Pin Yin Name | English Name |
| 葛根 | Radix Puerariae | Ge Gen | |
| 麻黃 | Herba Ephedrae | Ma Huang | |
| 生薑 | Rhizoma Zingiberis recens | Sheng Jiang | |
| 大棗 | Fructus Jujubae | Da Zao | |
| 桂枝 | Ramulus Cinnamomi | Gui Zhi | |
| 白芍 | Radix Paeoniae alba | Bai Shao | |
| 炙甘草 | Radix Glycyrrhizae praeparata cum melle | Zhi Gan Cao | Backed licorice |
【Classic Literature Reference】
Shang Han Lun (Treatise on Febrile Diseases, 206)
Compiler: Zhang, Zhong-king.
【Indications】
Traditional: Taiyang disease with an exterior excess pattern marked by chills, fever, no perspiration, stiffness and pain in the neck and upper back, body aches, with or without diarrhea, a thin, white tongue coating, and a superficial tense pulse.

Modern: Upper respiratory tract infection, cervical spondylosis, chronic rhinitis, tendonitis or bursitis of the shoulder, Bell's palsy, earlystage encephalitis, hordeolum, mumps, and neuralgia.
Symptoms of stiffness and spasm in the neck and upper back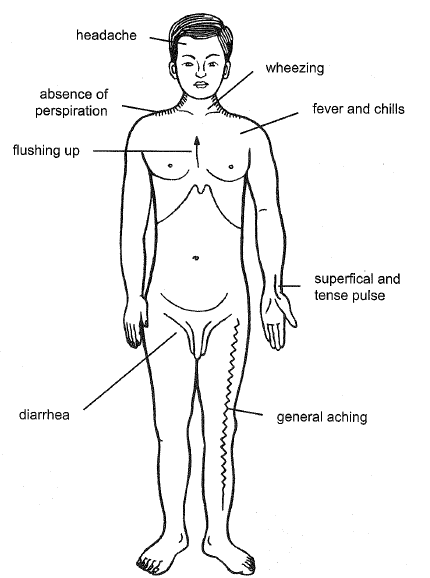 Exterior Cold (Excess) Pattern
【Herbs and Actions】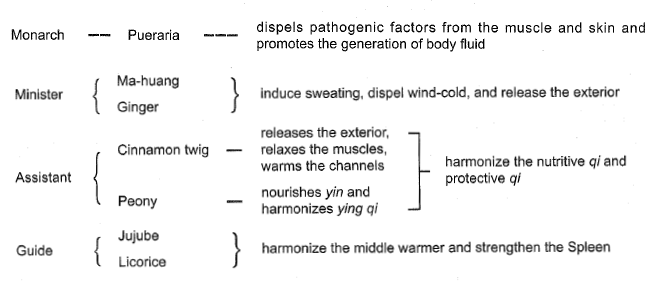 Join our member to get full-text article! Join Free!
【Clinical Applications】for members only
【Caution and Contraindications】for members only
【Formulas Differentiation】for members only
【References】for members only
Related Posts