Commonly Used Chinese Herb Formulas with Illustrations: Pinellia and Gastrodia Combination (Ban Xia Bai Zhu Tian Ma Tang)
---
0517半夏白朮天麻湯 (Ban Xia Bai Zhu Tian Ma Tang)
Pinellia, Atractylodes Macrocephala, and Gastrodia Decoction
---
【Formulation】
| | | | |
| --- | --- | --- | --- |
| Chinese Name | Pharmaceutical name | Pin Yin Name | English Name |
| 制半夏 | Rhizoma Pinelliae praeparatum | Zhi Ban Xia | Processed Pinellia Rhizome |
| 白朮 | Rhizoma Atractylodis macrocephalae | Bai Zhu | |
| 天麻 | Rhizoma Gastrodiae | Tian Ma | |
| 人參 | Radix Ginseng | Ren Shen | |
| 蒼朮 | Rhizoma Atractylodis | Cang Zhu | |
| 黃耆 | Radix Atragali | Huang Qi | |
| 澤瀉 | Rhizoma Alismatis | Ze Xie | |
| 陳皮 | Pericarpium Citri reticulatae | Chen Pi | |
| 茯苓 | Poria | Fu Ling | |
| 神麯 | Massa Medicata Fermentata | Shen Qu | |
| 麥芽 | Fructus Hordei germinatus | Mai Ya | |
| 黃柏 | Cortex Phellodendri | Huang Bo | |
| 乾薑 | Rhizoma Zingiberis | Gan Jiang | |
【Classic Literature Reference】
Pi Wei Lun (Treatise on the Spleen and Stomach,1249).
Compiler: Li, Gao also known as Li, Dong-yuan).
【Indications】
Traditional: Headache due to the adverse rising of phlegm, cough, and sticky sputum that is difficult to expectorate, dizziness or vertigo, restlessness and discomfort in the chest, nausea, vomiting, general heaviness, cold limbs, shortness of breath, fatigue, difficulty sleeping, a white and greasy tongue coating, and a wiry and slippery pulse.

Modern: Chronic headache, Meniere's disease, gastroatonia, gastroptosis, and hypotension with headache and dizziness.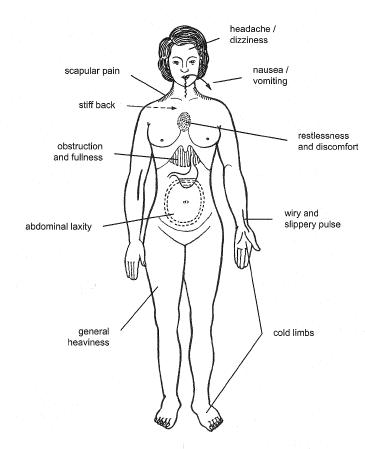 Pattern of Adverse Rising of Phlegm
【Herbs and Actions】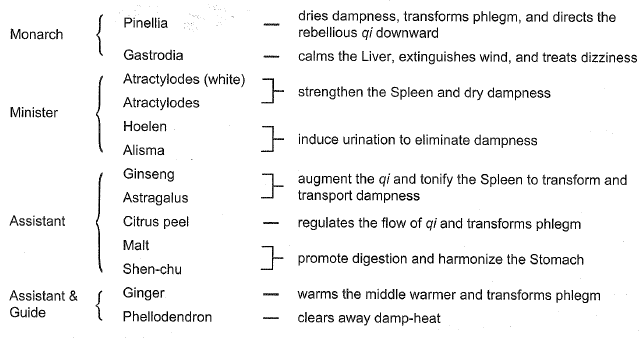 Join our member to get full-text article! Join Free!
【Clinical Applications】for members only
【Caution and Contraindications】for members only
【Formulas Differentiation】for members only
【References】for members only
Related Posts