Commonly Used Chinese Herb Formulas with Illustrations: Schizonepeta and Siler Formula (Jing Fang Bai Du San)
---
1012荊防敗毒散 (Jing Fang Bai Du San)
Schizonepeta and Siler Formula
Schizonepeta and Ledebouriella Powder to Overcome Pathogenic Influences
---
【Formulation】
| | | | |
| --- | --- | --- | --- |
| Chinese Name | Pharmaceutical name | Pin Yin Name | English Name |
| 柴胡 | Radix Bupleuri | Chai Hu | |
| 前胡 | Radix Peucedani | Qian Hu | |
| 薄荷 | Herba Menthae | Bo He | |
| 生薑 | Rhizoma Zingiberis recens | Sheng Jiang | |
| 荊芥 | Herba Schizonepetae | Jing Jie | |
| 防風 | Radix Saposhnikoviae | Fang Feng | |
| 羌活 | Rhizoma et Radix Notopterygii | Qiang Huo | |
| 獨活 | Radix Angelicae pubescentis | Du Huo | |
| 桔梗 | Radix Platycodonis | Jie Geng | |
| 川芎 | Rhizoma Chuanxiong | Chuan Xiong | |
| 枳殼 | Fructus Aurantii | Zhi Ke | |
| 甘草 | Radix Glycyrrhizae | Gan Cao | |
| 茯苓 | Poria | Fu Ling | |
【Classic Literature Reference】
Qi Xiao Liang Fang
【Indications】
Traditional: Initial stage of carbuncles or sores, which are characterized by redness, swelling,and pain. Other symptoms and signs include fever, chills, headache, absence of sweating, a thin and white tongue coating, and a superficial and rapid pulse.

Modern: Carbuncles, pustules, boils, mastitis, urticaria, scabies, eczema, dermatitis, eye inflammation, and influenza.
【Herbs and Actions】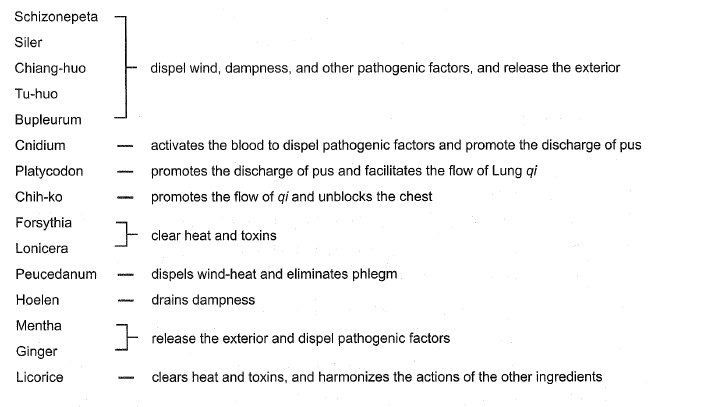 Join our member to get full-text article! Join Free!
【Clinical Applications】for members only
【Caution and Contraindications】for members only
【Formulas Differentiation】for members only
【References】for members only
Related Posts