Commonly Used Chinese Herb Formulas with Illustrations - Clematis and Stephania Combination (Shu Jing Huo Xue Tang)
---
1308 疏經活血湯 (Shu Jing Huo Xue Tang)
Clematis and Stephania Combination
Relax the Channels and Invigorate the Blood Decoction
---
【Formulation】
| | | | |
| --- | --- | --- | --- |
| Chinese Name | Pharmaceutical name | Pin Yin Name | English Name |
| 當歸 | Radix Angelicae sinensis | Dang Gui | |
| 白芍 | Radix Paeoniae alba | Bai Shao | |
| 川芎 | Rhizoma Chuanxiong | Chuan Xiong | |
| 生地黃 | Radix Rehmanniae | Sheng Di Huang | |
| 桃仁 | Semen Persicae | Tao Ren | |
| 茯苓 | Poria | Fu Ling | |
| 蒼朮 | Rhizoma Atractylodis | Cang Zhu | |
| 陳皮 | Pericarpium Citri reticulatae | Chen Pi | |
| 羌活 | Rhizoma et Radix Notopterygii | Qiang Huo | |
| 白芷 | Radix Angelicae dahuricae | Bai Zhi | |
| 威靈仙 | Radix Clematidis | Wei Ling Xian | |
| 粉防己 | Radix Stephaniae tetrandrae | Fen Fang Ji | |
| 龍膽 | Radix Gentianae | Long Dan | |
| 防風 | Radix Saposhnikoviae | Fang Feng | |
| 川牛膝 | Radix Chyathulae | Chuan Niu Xi | |
| 生薑 | Rhizoma Zingiberis recens | Sheng Jiang | |
| 甘草 | Radix Glycyrrhizae | Gan Cao | |
【Classic Literature Reference】
Wan Bing Hui Chun (Bring Spring Back to Myriad Diseases, 1587),
Compiler: Gong, Ting-xian.
【Indications】
Traditional: Blood stagnation due to the affliction of wind-cold-dampness, marked by severe pain in the muscles, joints, and nerves, especially soreness and aching below the waist.

Modern: Gout, mucoid arthritis of the knees, lumbago, sciatica, numbness in the legs, purpura, hemiplegia, hypertension, and postpartum pain due to thrombus.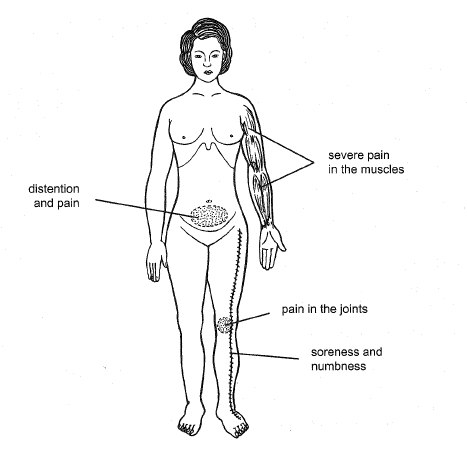 Pattern of Blood Stagnation due to the Affliction of Wind-Cold-Dampness
【Herbs and Actions】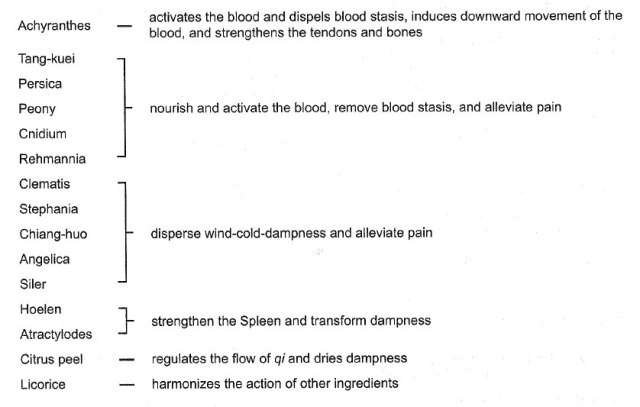 Join our member to get full-text article! Join Free!
【Clinical Applications】for members only
【Caution and Contraindications】for members only
【Formulas Differentiation】for members only
【References】for members only
Related Posts