Commonly Used Chinese Herb Formulas with Illustrations - Tang-kuei and Anemarrhena Combination (Dang Gui Nian Tong Tang)
---
1318 當歸拈痛湯 (Dang Gui Nian Tong Tang)
Tang-kuei and Anemarrhena Combination
Relieve Pain Decoction with Tang-kuei
---
【Formulation】
| | | | |
| --- | --- | --- | --- |
| Chinese Name | Pharmaceutical name | Pin Yin Name | English Name |
| 防風 | Radix Saposhnikoviae | Fang Feng | |
| 羌活 | Rhizoma et Radix Notopterygii | Qiang Huo | |
| 升麻 | Rhizoma Cimicifugae | Sheng Ma | |
| 葛根 | Radix Puerariae | Ge Gen | |
| 黃芩 | Radix Scutellariae | Huang Qin | |
| 苦參 | Radix Sophorae flavescentis | Ku Shen | |
| 知母 | Rhizoma Anemarrhenae | Zhi Mu | |
| 甘草 | Radix Glycyrrhizae | Gan Cao | |
| 茵陳蒿 | Herba Artemisiae capillaris | Yin Chen Hao | |
| 白朮 | Rhizoma Atractylodis macrocephalae macrocephalae | Bai Zhu | |
| 人參 | Radix Ginseng | Ren Shen | |
| 蒼朮 | Rhizoma Atractylodis | Cang Zhu | |
| 當歸 | Radix Angelicae sinensis | Dang Gui | |
| 豬苓 | Polyporus | Zhu Ling | |
| 澤瀉 | Rhizoma Alismatis | Ze Xie | |
【Classic Literature Reference】
Lan Shi Mi Cang/Li Dong yuan Fang (Secret Collection of the Orchid House, 1251).
Compiler: Li, Dong-yuan.
【Indications】
Traditional: Damp-heat syndrome marked by a heavy sensation in the upper back and shoulders; fullness and congestion in the chest and epigastrium; general¡P aching; swelling and severe pain in the legs and ankles; or skin lesion in the lower body manifested by itching, burning, and irritation.

Modern: Eczema in the genital area, urticaria, allergic purpura, neurodermatitis or other types of dermatitis in the lower limbs, gonorrhea, arthralgia with swelling and pain, somatic swelling and pain, and beriberi scabies.1-3

Pattern of Damp-Heat
【Herbs and Actions】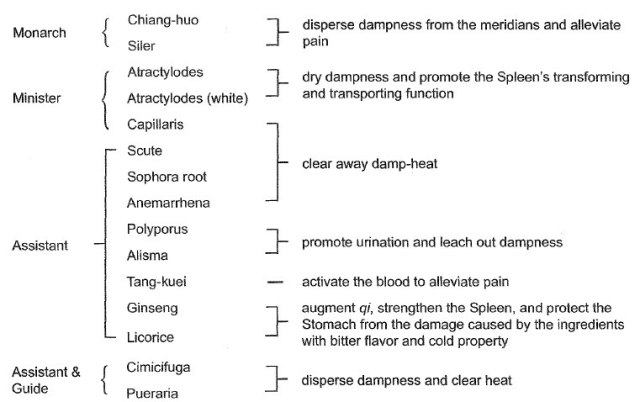 Join our member to get full-text article! Join Free!
【Clinical Applications】for members only
【Caution and Contraindications】for members only
【Formulas Differentiation】for members only
【References】for members only

Related Posts