Commonly Used Chinese Herb Formulas with Illustrations - Gentiana Combination (Long Dan Xie Gan Tang
---
1607 龍膽瀉肝湯 (Long Dan Xie Gan Tang)
Gentiana Longdancao Decoction to Drain the Liver
---
【Formulation】
| | | | |
| --- | --- | --- | --- |
| Chinese Name | Pharmaceutical name | Pin Yin Name | English Name |
| 龍膽 | Radix Gentianae | Long Dan | |
| 澤瀉 | Rhizoma Alismatis | Ze Xie | |
| 木通 | Caulis Akebiae | Mu Tong | |
| 車前子 | Semen Plantaginis | Che Qian Zi | |
| 當歸 | Radix Angelicae sinensis | Dang Gui | |
| 生地黃 | Radix Rehmanniae | Sheng Di Huang | |
| 山梔子 | Fructus Gardeniae | Shan Zhi Zi | |
| 黃芩 | Radix Scutellariae | Huang Qin | |
| 柴胡 | Radix Bupleuri | Chai Hu | |
| 甘草 | Radix Glycyrrhizae | Gan Cao | |
【Classic Literature Reference】
Li Dong Yuan Fang (Secret Collection of the Orchid House, 1251).
Compiler: Li, Dong-yuan.
【Indications】
Traditional:

Flaring up of Liver fire marked by headache, red eyes, impaired hearing, swollen ears, bitter taste in the mouth, and hypochondriac pain, a red tongue with yellow coating, and a wiry and rapid pulse.

Downward flow of damp-heat marked by painful and difficult urination, dark and cloudy urine, swelling and itching around the external genitalia, genital sweating, or foul-smelling leukorrhea, a yellow and greasy tongue coating, and a rapid and forceful pulse.
Modern: Acute conjunctivitis, cornealulcer, keratitis, acute otitis media, migraine headache, mumps, hypertension, hepatitis,acute cholecystitis, urinary tract infection, pelvic inflammation, prostatitis, testitis, cervicitis,herpes zoster, urethritis, cystitis, endometritis,vaginal inflammation, leukorrhea, venereal ulcer, groin lymphadenitis, Behcet's disease, and eczema of scrotum.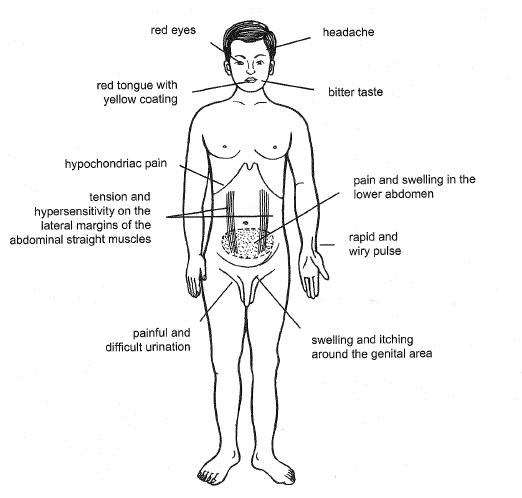 Pattern of Liver Fire or Downward Flow of Damp-Heat in the Liver Channel
【Herbs and Actions】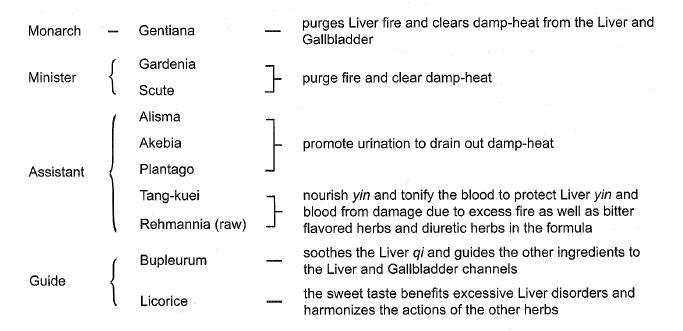 Join our member to get full-text article! Join Free!
【Clinical Applications】for members only
【Caution and Contraindications】for members only
【Formulas Differentiation】for members only
【References】for members only
Related Posts