Commonly Used Chinese Herb Formulas with Illustrations - Magnolia Flower Formula (Xin Yi San)
---
0705 辛夷散 (Xin Yi San)
Magnolia Flower Formula
Magnolia Flower Formula
---
【Formulation】
| | | | |
| --- | --- | --- | --- |
| Chinese Name | Pharmaceutical name | Pin Yin Name | English Name |
| 辛夷 | Flos Magnoliae | Xin Yi | |
| 白芷 | Radix Angelicae dahuricae | Bai Zhi | |
| 升麻 | Rhizoma Cimicifugae | Sheng Ma | |
| 藁本 | Rhizoma Ligustici | Gao Ben | |
| 細辛 | Radix Asari | Xi Xin | |
| 防風 | Radix Saposhnikoviae | Fang Feng | |
| 川木通 | Caulis Clematidis armandii | Chuan Mu Tong | |
| 川芎 | Rhizoma Chuanxiong | Chuan Xiong | |
| 甘草 | Radix Glycyrrhizae | Gan Cao | |
| 茶葉 | Folium Camelliae sinensis | Cha Ye | |
【Classic Literature Reference】
The book "YI FANG CHI CHIEH" was published in B.C. 1682 by a famous Chinese Medicine Doctor,"WANG ANG" of the Chin Dynasty.
【Indications】
Traditional:

Obstruction of Lung qi due to affliction of wind-cold or damp-heat marked by nasal congestion, runny nose or profuse nasal discharge, loss of smell, headache, dizziness, and a sensation of general heaviness.
Modern:

Nasal congestion due to common cold or influenza, rhinitis, coryza, sinusitis, and nasal polyp.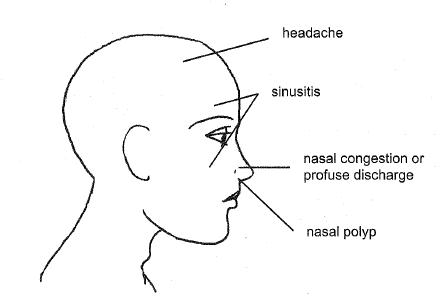 Exterior Cold Pattern
【Herbs and Actions】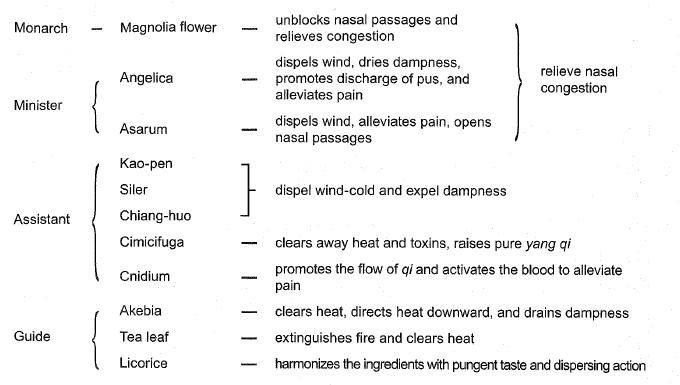 Join our member to get full-text article! Join Free!
【Commentary】for members only
【Differentiation】for members only
Related Posts