Commonly Used Chinese Herb Formulas with Illustrations - Morus and Chrysanthemum Combination (Sang Ju Yin)
1004 桑菊飲 (Sang Ju Yin)
Morus and Chrysanthemum Combination
Morus Leaf & Chrysanthemum Decoction
---
【Formulation】
| | | | |
| --- | --- | --- | --- |
| Chinese Name | Pharmaceutical Name | Pin Yin Name | English Name |
| 桑葉 | Folium Mori | Sang Ye | |
| 杏仁 | Semen Armeniacae amarum | Xing Ren | |
| 桔梗 | Radix Platycodonis | Jie Geng | |
| 蘆根 | Rhizoma Phragmitis | Lu Gen | |
| 菊花 | Flos Chrysanthemi | Ju Hua | |
| 連翹 | Fructus Forsythiae | Lian Qiao | |
| 薄菏 | Herba Menthae | Bo He | |
| 甘草 | Radix Glycyrrhizae | Gan Cao | |
【Classic Literature Reference】
Wen Bing Tiao Bian (Discrimination of Febrile Diseases, 1798).
Compiler: Wu, Tang.
【Indications】
Traditional:

Initial stage of wind-heat marked by cough, slight fever, mild thirst, a thin and white tongue coating, and a superficial and rapid pulse.

Modern:

Common cold, influenza, pneumonia, whooping cough, measles, and acute tracheitis.
Exterior Heat Patterns
【Herbs and Actions】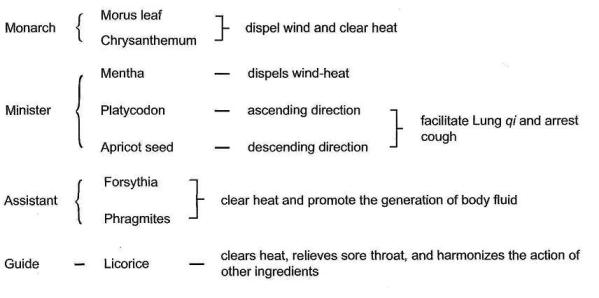 Join our member to get full-text article! Join Free!
【Pharmacological Studies】for members only
【Clinical Applications】for members only
【Precaution & Contraindicaton】for members only
【Discriminations】for members only
【References】for members only
Related Posts