Commonly Used Chinese Herb Formulas with Illustrations - Minor Blue Dragon Combination (Xiao Qing Long Tang)
0305 小青龍湯 (Xiao Qing Long Tang)
Minor Blue Dragon Decoction
---
【Formulation】
| | | | |
| --- | --- | --- | --- |
| Chinese Name | Pharmaceutical Name | Pin Yin Name | English Name |
| 麻黃 | Herba Ephedrae | Ma Huang | |
| 白芍 | Radix Paeoniae alba | Bai Shao | |
| 乾薑 | Rhizoma Zingiberis | Gan Jiang | |
| 炙甘草 | Radix Glycyrrhizae praeparata cum melle | Zhi Gan Cao | |
| 桂枝 | Ramulus Cinnamomi | Gui Zhi | |
| 製半夏 | Rhizoma Pinelliae praeparatum | Zhi Ban Xia | |
| 五味子 | Fructus Schisandrae chinensis | Wu Wei Zi | |
| 細辛 | Radix Asari | Xi Xin | |
【Classic Literature Reference】
Shang Han Lun (Treatise on Febrile Diseases, 206).
Compiler: Zhang, Zhong-jingo
【Indications】
Traditional:

Affliction of wind-cold with internal phlegm-retention marked by chills, fever, anhidrosis, asthmatic cough or labored breathing, watery phlegm, a sensation of fullness and discomfort in the chest, and thirst; or body aches, decreased urination, generalized edema, a white and slippery tongue coating, and a superficial pulse.

Modern:

Common cold, influenza, bronchial asthma, acute or chronic bronchitis, allergic rhinitis, whooping cough, pneumonia, pulmonary edema, cor pulmonale, pleuritis, and acute nephritis.
【Herbs and Actions】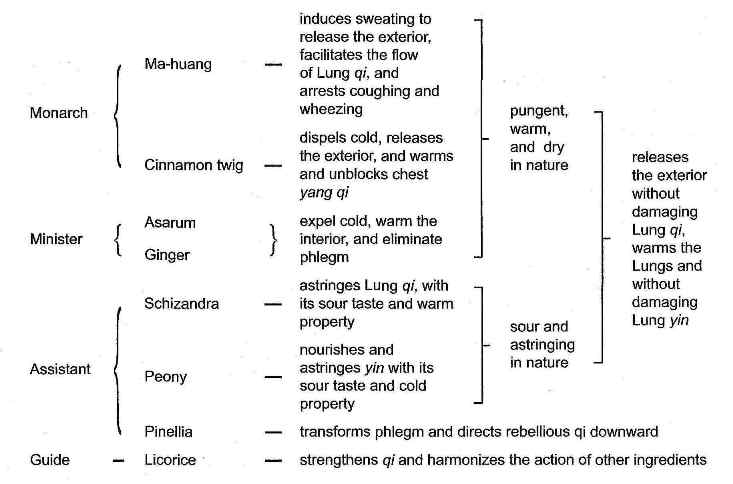 Join our member to get full-text article! Join Free!
【Pharmacologica Studies】for members only
【Clinical Applications】for members only
【Precaution & Contraindicaton】for members only
【Discriminations】for members only
【References】for members only
Related Posts