Commonly Used Chinese Herb Formulas with Illustrations - Rehmannia Eight Formula (Ba Wei Di Huang Wan)
---
0210 八味地黃丸 (Ba Wei Di Huang Wan)
Kidney Qi Pill from the Golden Cabinet
---
【Formulation】
| | | | |
| --- | --- | --- | --- |
| Chinese Name | Pharmaceutical Name | Pin Yin Name | English Name |
| 熟地黃 | Radix Rehmanniae praeparata | Shu Di Huang | |
| 山茱萸 | Fructus Corni | Shan Zhu Yu | |
| 山藥 | Rhizoma Dioscoreae | Shan Yao | |
| 茯苓 | Poria | Fu Ling | |
| 牡丹皮 | Cortex Moutan | Mu Dan Pi | |
| 澤瀉 | Rhizoma Alismatis | Ze Xie | |
| 炮附子 | Radix Aconiti lateralis praeparata | Pao Fu Zi | |
| 肉桂 | Cortex Cinnamomi | Rou Gui | |
【Classic Literature Reference】
Yi Fang Ji Jie (Analytic Collection of Medicine Formulas, 1682AD)
Compiler: Wang, Ang-in.
【Indications】
Traditional: Kidney yang deficiency mark by lower back pain; weakness in the legs; co sensation in the lower extremities; tenseness and discomfort in the lower abdomen; difficult urination or profuse urine; a pale and swollen tongue with thin, white coating; and a deep, thready pulse in the kidney position. It is also used in the treatment of coughing and wheezing due to phlegm accumulation and diabetes.
Modern: Chronic nephritis, prostatic hyperplasia chronic urinary bladder disorders, diabetes neurasthenia, asthma, hypertension, absent-mindedness, premature ejaculation, impotence lumbago, sciatica, deformed vertebra, chronic gonorrhea, prolapse of the anus, and menopause syndrome.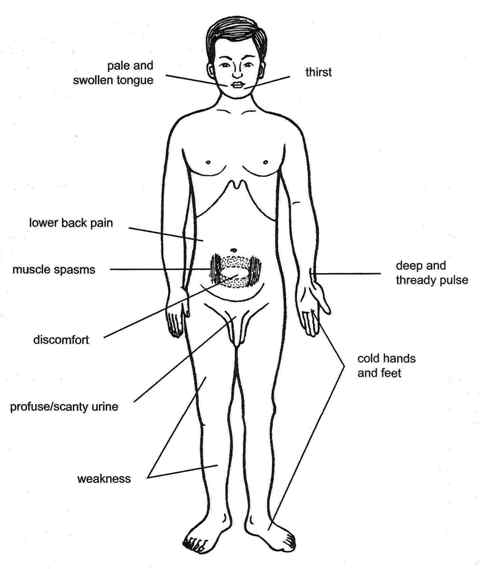 Pattern of Kidney Yang Deficiency
【Herbs and Actions】

Join our member to get full-text article! Join Free!
【Pharmacological Studies】for members only
【Clinical Applicaions】for members only
【Precaution & Contraindicaton】for members only
【Toxicity】for members only
【Discriminations】for members only
【References】for members only
Related Posts