Commonly Used Chinese Herb Formulas with Illustrations - Gastrodia and Uncaria Combination (Tian Ma Gou Teng Yin)
---
0414 天麻鈎藤飲 (Tian Ma Gou Teng Yin)
Gastrodia and Uncaria Decoction
---
【Formulation】
| | | | |
| --- | --- | --- | --- |
| Chinese Name | Pharmaceutical Name | Pin Yin Name | English Name |
| 石決明 | Concha Haliotidis | Shi Jue Ming | |
| 夜交藤 | Caulis Polygoni multiflori | Ye Jiao Teng | |
| 桑寄生 | Herba Taxilli | Sang Ji Sheng | |
| 鈎藤 | Ramulus Uncariae cum Uncis | Gou Teng | |
| 杜仲 | Cortex Eucommiae | Du Zhong | |
| 益母草 | Herba Leonuri | Yi Mu Cao | |
| 茯神 | Poria cum Radix Pini | Fu Shen | |
| 川牛膝 | Radix Cyathulae | Chuan Niu Xi | |
| 天麻 | Rhizoma Gastrodiae | Tian Ma | |
| 山梔子 | Fructus Gardeniae | Shan Zhi Zi | |
| 黃芩 | Radix Scutellariae | Huang Qin | |
【Classic Literature Reference】
Za Bing Zheng Zhi Xi Yi (Modern Analysis of Symptom-complexes and the Treatment of Miscellaneous Diseases, date unknown).
Compiler: Hu, Guang-ci.
【Indications】
Traditional: Hyperactivity of Liver yang with internal movement of Liver wind, marked by headache, vertigo, tinnitus, flushing-up, insomnia, a red tongue and a rapid and wiry pulse. In severe cases, there may be deviation of mouth and eyes, numbness, twitching, and spasm in the limbs, or hemiplegia.
Modern: Hypertension, cerebrovascular disease, transitory ischemic attacks, epilepsy, neurosis, auditory vertigo, trigeminal neuralgia, Meniere's disease, facial paralysis, hemiplegia, and hyperthyroidism.1, 2
【Herbs and Actions】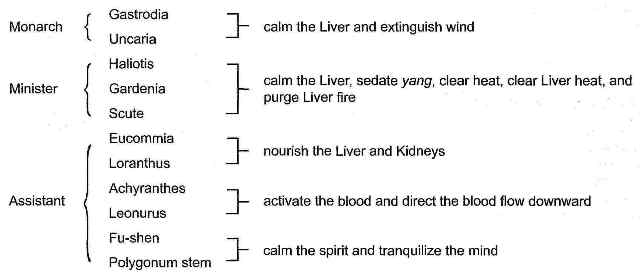 Join our member to get full-text article! Join Free!
【Pharmacological Studies】for members only
【Clinical Applicaions】for members only
【Precaution & Contraindicaton】for members only
【Discriminations】for members only
【References】for members only
Related Posts