Commonly Used Chinese Herb Formulas with Illustrations - Dang Gui and Ginseng Eight Combination (Ba Zhen Tang)
---
0209 八珍湯 (Ba Zhen Tang)
Dang Gui and Ginseng Eight Combination
Eight-Treasure Decoction
---
【Formulation】
| | | | |
| --- | --- | --- | --- |
| Chinese Name | Pharmaceutical Name | Pin Yin Name | English Name |
| 當歸 | Radix Angelicae sinensis | Dang Gui | |
| 川芎 | Rhizoma Chuanxiong | Chuan Xiong | |
| 白芍 | Radix Paeoniae alba | Bai Shao | |
| 熟地黃 | Radix Rehmanniae praeparata | Shu Di Huang | |
| 人參 | Radix Ginseng | Ren Shen | |
| 白朮 | Rhizoma Atractylodis macrocephalae | Bai Zhu | |
| 茯苓 | Poria | Fu Ling | |
| 生薑 | Rhizoma Zingiberis recens | Sheng Jiang | |
| 大棗 | Fructus Jujubae | Da Zao | |
| 炙甘草 | Radix Glycyrrhizae praeparata cum melle | Zhi Gan Cao | |
【Classic Literature Reference】
Zheng Zhi Zhun Sheng (Standards for Diagnosis and Treatment, 1602).
Compiler: Wang, Ken-Tang.
【Indications】
Traditional: Traditional: Both qi and blood deficiencies marked by pale and sallow complexion, dizziness, blurred vision, lassitude and sluggishness, fatigue, shortness of breath, palpitation, reduced appetite, a pale tongue with thin and coating, and a thready and weak or big and forceless pulse.
Modern: Anemia, irregular menstruation, chronic ischemic cardiomyopathy, thrombocytopenic purpura, habitual abortion, pruritus senilis, and postoperative weakness.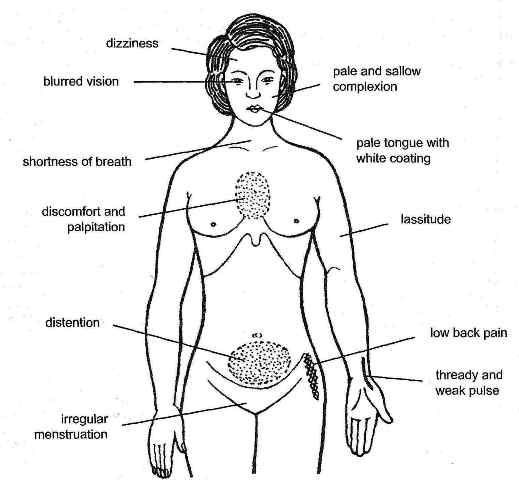 Pattern of Both Qi and Blood Deficiencies
【Herbs and Actions】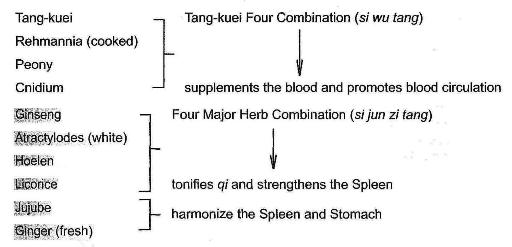 Join our member to get full-text article! Join Free!
【Pharmacological Studies】for members only
【Clinical Applications】for members only
【Precaution & Contraindication】for members only
【Toxicity】for members only
【Discriminations】for members only
【
References
】
for members only
Related Posts