Commonly Used Chinese Herb Formulas with Illustrations - Citrus and Pinellia Combination (Er Chen Tang)
---
0202 二陳湯 (Er Chen Tang)
Citrus and Pinellia Combination
Two-Cured Decoction
---
【Formulation】
| | | | |
| --- | --- | --- | --- |
| Chinese Name | Pharmaceutical Name | Pin Yin Name | English Name |
| 半夏 | Rhizoma Pinelliae praeparata | Zhi Ban Xia | |
| 茯苓 | Poria | Fu Ling | |
| 陳皮 | Pericarpium Citri reticulatae | Chen Pi | |
| 生薑 | Rhizoma Zingiberis recens | Sheng Jiang | |
| 炙甘草 | Radix Glycyrrhizae praeparata cum melle | Zhi Gan Cao | |
【Classic Literature Reference】
Tai Ping Hui Min He Ji Ju Fang (Formulas of the Bureau of the People's Welfare Pharmacy, 1078).
Compilers: Chen, Shi-wen et al.
【Indications】
Traditional: Damp-phlegm accumulation marked by cough; profuse, thin, and white phlegm; fullness and distention in the chest and epigastrium; nausea; vomiting; a heavy sensation in the limbs; a white and moist tongue coating; and a slippery pulse. Dizziness and palpitation may also be observed.
Modern: Morning sickness, hangover, chronic gastritis, peptic ulcer, gastroptosis, gastrointestinal neurosis, upper respiratory tract infection, chronic bronchitis, emphysema, and Meniere's disease.1,2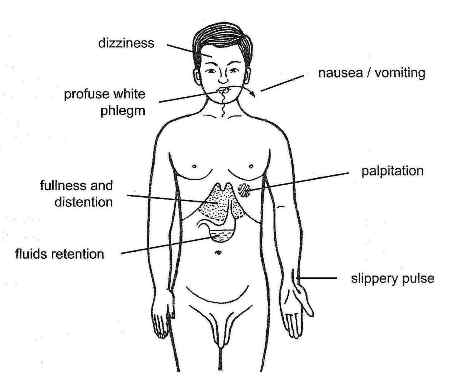 Pattern of Damp-Phlegm Accumulation
【Herbs and Actions】

Join our member to get full-text article! Join Free!
【Clinical Applications】for members only
【Precaution & Contraindications】for members only
【Discriminations】for members only
【References】for members only
Related Posts