Commonly Used Chinese Herb Formulas with Illustrations - Persica and Achyranthes Combination (Xue Fu Zhu Yu Tang)
---
0605 血府逐瘀湯 (Xue Fu Zhu Yu Tang)
Persica and Achyranthes Combination
Drive Out Stasis in the Mansion of Blood Decoction
---
【Formulation】
| | | | |
| --- | --- | --- | --- |
| Chinese Name | Pharmaceutical Name | Pin Yin Name | English Name |
| 桃仁 | Semen Persicae | Tao Ren | |
| 當歸 | Radix Angelicae sinensis | Dang Gui | |
| 生地黃 | Radix Rehmanniae | Sheng Di Huang | |
| 紅花 | Flos Carthami | Hong Hua | |
| 川牛膝 | Radix Cyathulae | Chuan Niu Xi | |
| 枳殼 | Fructus Aurantii | Zhi Ke | |
| 赤芍 | Radix Paeoniae rubra | Chi Shao | |
| 桔梗 | Radix Platycodonis | Jie Geng | |
| 川芎 | Rhizoma Chuanxiong | Chuan Xiong | |
| 柴胡 | Radix Bupleuri | Chai Hu | |
| 甘草 | Radix Glycyrrhizae | Gan Cao | |
【Classic Literature Reference】
Yi Lin Gai Cuo (Corrections of Errors Among Physicians, 1830).
Compiler: Wang, Qing-ren.
【Indications】
Traditional: Blood stasis in the chest or upper aspect of the body marked by sharp chest pain or chronic headache in a fixed region; chronic incessant hiccup; or choking when drinking water; retching; or low grade fever with restlessness; palpitation; insomnia; restless sleep; anxiety and mood swings; or fever at the evening; dark lips and complexion, a dark red tongue or purple spots on the tongue, and a hesitant or wiry and tense pulse.
Modern: Coronary heart disease, angina pectoris, rheumatic heart disease, post-concussion syndrome, depression, headache, chronic hiccup, traumatic injury in the chest region, and costal chondritis.1-6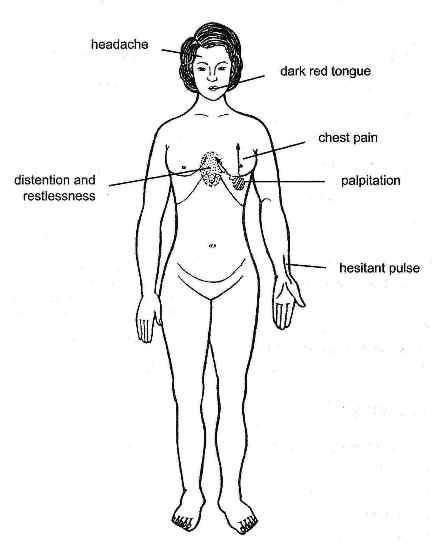 Pattern of Blood Stasis in the Chest
【Herbs and Actions】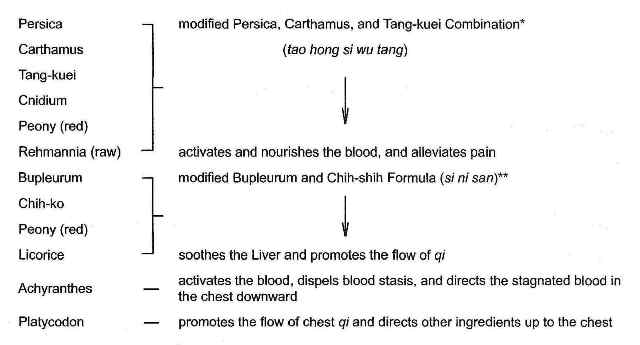 Join our member to get full-text article! Join Free!
【Pharmacological Studies】for members only
【Clinical Applications】for members only
【Precaution & Contraindications】for members only
【References】for members only
Related Posts