Introduction to Dao Di Herbs and Fungi in Anhui, China
---
Introduction to Dao Di Herbs and Fungi in Anhui, China
---
Anhui Herb Origin and Resource
Anhui province is dissected by two important rivers, Huaihe in the north and Yangtze in south. Its remarkable landscape, flatland in the north, mountainous in the southwest, and hilly area in the southeast, has made Anhui province a diverse and high production yield origin of TCM herbs in China. According to National Chinese Herbs Investigation, a total of 3,482 herb species was collected in Anhui in 2005, which ranked no 6 in herb species quantity in China. The resource of popular dao di Anhi Chinese herbs including cultivated Shao Yao (peony), Bai Zhu (white astratylodes), Jie Geng (platycodon), and Ban Lan Gen (isatis root) in the northern flatland, Tian Ma (gastrodia), Fu Ling (poria), and Ling Zhi (ganoderma) in the mountainous region in southwest, and Mu Dan Pi (moutan) and Ju Hua (chrysanthemum) in the hilly region in southeast.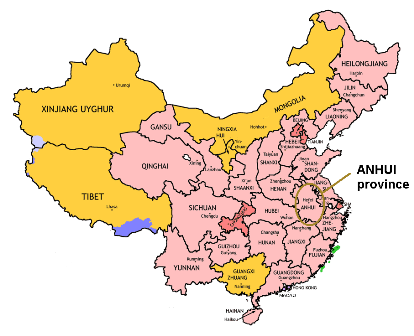 Bozhou, the Capital City of Chinese Medicine
Bozhou has a long-standing history of over 4,000 years and the city has the reputation of "The Capital of Medicine". Since the end of Eastern Han Dynasty, Bozhou residents started to cultivate and distribute Chinese herbal medicine; the business has flourished for more than 2,100 years. In Pharmacopoeia of the People's Republic of China (PPRC), four herbs are named after the City of Bozhou, which are Bo Shao (peony), Bo Ju (chrysanthemum), Bo San Pi (mulberry bark), and Bo Hua Fen (trichosanthes root), in which Bo Shao and Bo Ju are recognized as the four great medicinal herbs of Anhui. About 75% of China's Bai Shao is produced in Bozhou. In 1995, Jiang-Zemin, the General Secretary of the Communist Party of China, left a dedication to the place as the "hometown of Huatuo, homeland of medicinal material", which further elevate the popularity of Bozhou herbs.
Selected "Dao Di" Herb and Fungi within Anhui Province
Code

Chinese

Name

Pharmaceutical

Name

Pin Yin Name

English Name

Common Indications

1806

靈芝

Ganoderma

lucidum

Ling Zhi

Replenish qi (energy) and regulate immune system.

5722

白芍藥

Radix Paeoniae

alba

Bai Shao Yao

Blood deficiency, chest, abdominal, flank and costal pain, muscle pain and tightness, spasm of the limbs, diarrhea, dysentery, fever due to yin-deficiency, menstrual disorders, painful menstruation, functional bleeding, leukorrhea, spermatorrhea, dry skin.

5413

天麻

Rhizoma

Gastrodiae

Tian Ma

Internal liver wind, pain due to wind, wind-damp Bi painful obstruction, headache, dizziness, vertigo, convulsions, seizure, epilepsy, hemiplegia, chronic numbness, weakness of extremities, contracture of the limbs, sore and painful knees and waist, aphonia, arthralgia due to wind, cold and dampness, convulsions young children.

5504

白朮

Rhizoma

Atractylodis

macrocephalae

Bai Zhu

Deficiency of the spleen, spleen qi deficiency with dampness, fatigue, loss of appetite, mental fatigue, diarrhea, edema, retention of phlegm, spontaneous sweating, profuse sweating, dizziness, vomiting, fetal restlessness, vaginal discharge.

5714

牡丹皮

Cortex Moutan

Mu Dan Pi

Blood level warm febrile diseases, hematemesis, epistaxis, macula, epilepsy, abdominal pain, yin deficiency bone-steaming from extreme fatigue and fever, menstrual disorders due to blood stasis, masses, lumps, dysmenorrhea, gynecological disorders, traumatic injuries, bruises, eye pain, liver heat headache, flank pain, sores, intestinal abscesses, no sweating.

5803

板藍根

Radix Isatidis

Ban Lan Gen

Warm febrile diseases, mumps, damp-heat jaundice, carbuncles, erysipelas, swollen and sore throat, hematemesis, and epistaxis.

6017

茯苓

Poria

Fu Ling

Edema or ascites with thirst, dysuria, oliguria; diarrhea, indigestion, water retention in the abdomen; acid dyspepsia from hyperchlorhydria; palpitations, insomnia, anxiety, depression; immune stress with cell-mediated allergies (glomerulonephritis, peptic ulcer); infections in general.

6020

桔梗

Radix Platycodonis

Jie Geng

Cough, various types of sore throat, tonsillitis, loss of voice, voice hoarseness.

6225

菊花

Flos Chrysanthemi

Ju Hua

Wind-heat fever and headache, sore throat, dry mouth and throat, deep-rooted nail-like furuncle, tumor, wind-heat in liver channel causing red painful eyes, tearing, ocular inflammation, blurry vision, dizziness, headache and deafness due to liver yang rising.
Related Posts