Commonly Used Chinese Herb Formulas with Illustrations - Six Major Herb Combination (Liu Jun Zi Tang)
---
0407 六君子湯 (Liu Jun Zi Tang)
Six-Gentleman Decoction
---
【Formulation】
| | | | |
| --- | --- | --- | --- |
| Chinese Name | Pharmaceutical Name | Pin Yin Name | English Name |
| 人參 | Radix Ginseng | Ren Shen | |
| 白朮 | Rhizoma Atractylodis macrocephalae | Bai Zhu | |
| 茯苓 | Poria | Fu Ling | |
| 制半夏 | Rhizoma Pinelliae praeparatum | Zhi Ban Xia | |
| 炙甘草 | Radix Glycyrrhizae praeparata cum melle | Zhi Gan Cao | |
| 陳皮 | Pericarpium Citri reticulatae | Chen Pi | |
| 生薑 | Rhizoma Zingiberis recens | Sheng Jiang | |
【Classic Literature Reference】
Tai Ping Hui Min He Ji Ju Fang (Formulas of the Bureau of People's Welfare Pharmacy, 1151)
Complier: Bureau of People's Welfare Pharmacy
【Indications】
Traditional: Spleen and Stomach deficiency with accumulation of phlegm dampness marked by poor appetite, nausea, vomiting, distention and fullness in the chest and epigastrium, loose stools, or fatigue, chronic cough with profuse thin and white phlegm, and a soft or forceless pulse.
Modern: Peptic ulcer, chronic gastritis, gastroptosis, gastrectasia, chronic peritonitis, morning sickness, gastrointestinal reaction of chemotherapy, chronic bronchitis, and neurasthenia.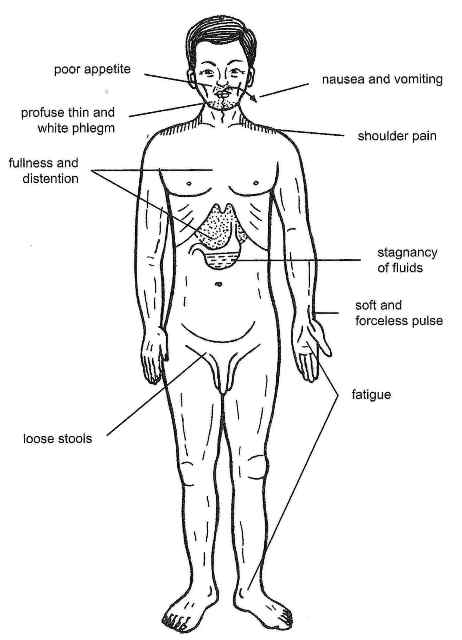 Pattern of Spleen Qi Deficiency with Accumulation of Phlegm-Dampness
【Herbs and Actions】

Join our member to get full-text article! Join Free!
【Pharmacological Studies】for members only
【Clinical Applications】for members only
【Precautions】for members only
【References】for members only
Related Posts