Commonly Used Chinese Herb Formulas with Illustrations - Pueraria Nasal Combination (Qing Bi Tang)
---
1109 清鼻湯 (Qing Bi Tang)
Clear the Nose Decoction
---
【Formulation】
| | | | |
| --- | --- | --- | --- |
| Chinese Name | Pharmaceutical Name | Pin Yin Name | English Name |
| 葛根 | Radix Puerariae | Ge Gen | |
| 薏苡仁 | Semen Coicis | Yi Yi Ren | |
| 桔梗 | Radix Platycodonis | Jie Geng | |
| 辛夷 | Flos Magnoliae | Xin Yi | |
| 麻黃 | Herba Ephedrae | Ma Huang | |
| 芍藥 | Radix Paeoniae alba | Shao Yao | |
| 桂皮 | Cortex Cinnamomi | Gui Pi | |
| 石膏 | Gypsum Fibrosum | Shi Gao | |
| 生薑 | Rhizoma Zingiberis recens | Sheng Jiang | |
| 大黃 | Rhizoma Rhei | Da Huang | |
| 川芎 | Rhizoma Chuanxiong | Chuan Xiong | |
| 甘草 | Radix Glycyrrhizae | Gan Cao | |
【
Classic Literature Reference
】
A clinically proven recipe.
【Indications】
Traditional: Obstruction of Lung qi due to affliction of wind-cold and accumulation of Lung heat marked by nasal congestion, discharge, decreased sense of smell, sneezing, headache, itching in the nose and throat, decreased energy level, and restlessness.
Modern: Rhinitis, sinusitis, allergy, common cold, influenza, and sinus headache.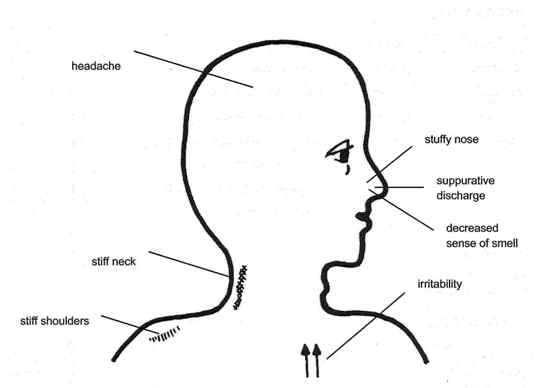 Pattern of Exterior Cold with Congested Lung Heat
【Herbs and Actions】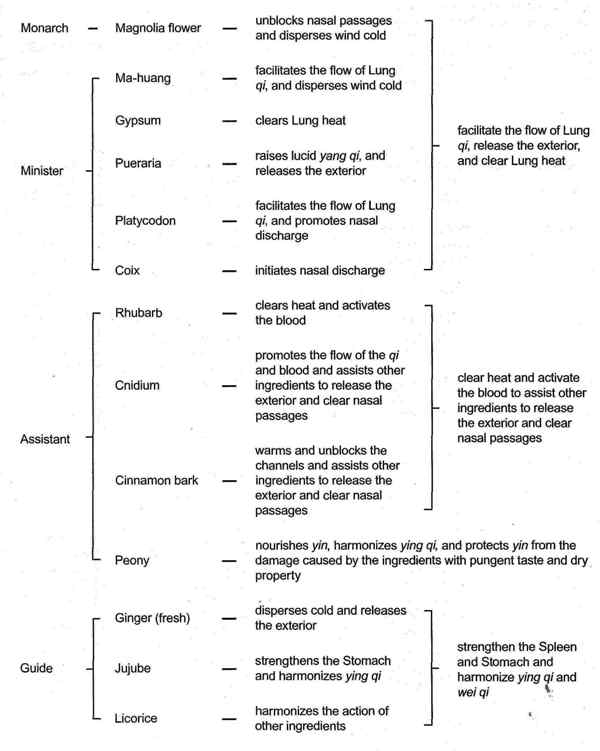 Join our member to get full-text article! Join Free!
【Commentary】for members only
【Precaution and Contraindications】for members only
【Discriminations】for members only
Related Posts