Commonly Used Chinese Herb Formulas with Illustrations - Astragalus and Zizyphus Combination (Yang Xin Tang)
---
1406 養心湯 (Yang Xin Tang)
Astragalus and Zizyphus Combination
Nourish the Heart Decoction
---
【Formulation】
| | | | |
| --- | --- | --- | --- |
| Chinese Name | Pharmaceutical Name | Pin Yin Name | English Name |
| 炙黃耆 | Radix Astragali praeparata cum melle | Zhi Huang Qi | |
| 茯神 | Poria cum Radix Pini | Fu Shen | |
| 茯苓 | Poria | Fu Ling | |
| 半夏麴 | Rhizoma Pinelliae fermentatae | Ban Xia Qu | |
| 當歸 | Radix Angelicae sinensis | Dang Gui | |
| 川芎 | Rhizoma Chuanxiong | Chuan Xiong | |
| 遠志 | Radix Polygalae | Yuan Zhi | |
| 酸棗仁 | Semen Zizyphi spinosae | Suan Zao Ren | |
| 肉桂 | Cortex Cinnamomi | Rou Gui | |
| 柏子仁 | Semen Platycladi | Bo Zi Ren | |
| 五味子 | Fructus Schisandrae chinensis | Wu Wei Zi | |
| 人參 | Radix Ginseng | Ren Shen | |
| 炙甘草 | Radix Glycyrrhizae praeparata cum melle | Zhi Gan Cao | |
| 生薑 | Rhizoma Zingiberis recens | Sheng Jiang | |
| 大棗 | Fructus Jujubae | Da Zao | Jujube |
【Classic Literature Reference】
Zheng Zhi Zhun Sheng (Standards of Patterns and Treatments, 1602)
Complier: Wang, Ken-tang
【Indications】
Traditional: Heart qi and blood deficiency marked by shortness of breath, palpitation, night sweats, insomnia, irritability, forgetfulness, a pale tongue, and a thready and weak pulse. It is also used in the treatment of stanguria induced by overstrain.
Modern: Anemia, low energy level, absent mindedness, insomnia, and neurasthenia.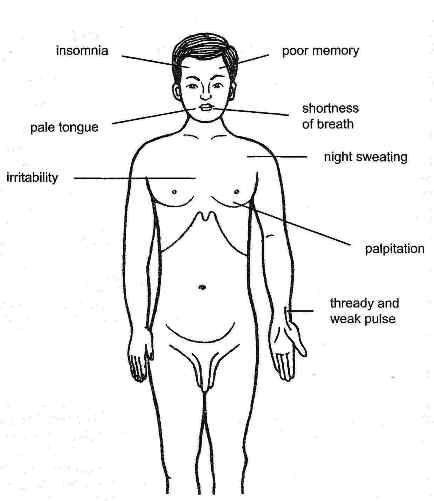 Pattern of Heart Qi and Blood Deficiency
【Herbs and Actions】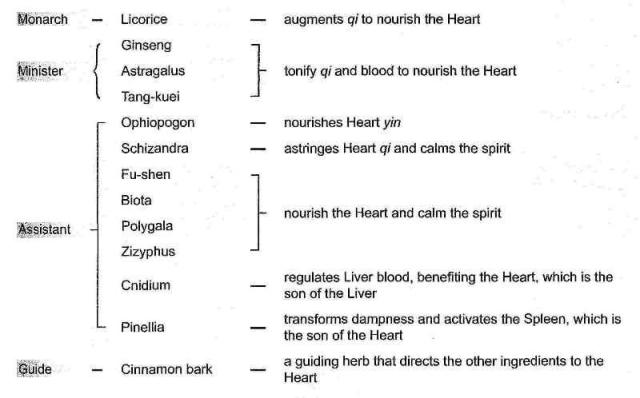 Join our member to get full-text article! Join Free!
【Commentary】for members only
【Discriminations】for members only
Related Posts