Commonly Used Chinese Herb Formulas with Illustrations - Dianthus Formula (Ba Zheng San)
---
0208 八正散 (Ba Zheng San)
Eight-Herb Powder for Rectification
---
【Formulation】
| | | | |
| --- | --- | --- | --- |
| Chinese Name | Pharmaceutical Name | Pin Yin Name | English Name |
| 車前子 | Semen Plantaginis | Che Qian Zi | |
| 瞿麥 | Herba Dianthi | Qu Mai | Dianthus |
| 滑石 | Talcum | Hua Shi | |
| 大黃 | Rhizoma Rhei | Da Huang | |
| 山梔子 | Fructus Gardeniae | Shan Zhi Zi | |
| 萹蓄 | Herba Polygoni avicularis | Bian Xu | Knotweed |
| 木通 | Caulis Akebiae | Mu Tong | |
| 甘草稍 | Radix Glycyrrhizae extrema | Gan Cao Shao | |
| 燈心草 | Medulla Junci | Deng Xin Cao | |
【Classic Literature Reference】
Tai Ping Hui Min He Ji Ju Fang (Formulas of the Bureau of the People's Welfare Pharmacy, 1078).
Compilers: Chen, Shi-wen et al.
【Indications】
Traditional: Downward flow of damp-heat, heat lin (stranguria) syndrome or blood lin (stranguria) syndrome, marked by cloudy urine with dark red color, frequent and urgent micturition, burning pain in the urethra, dribbling urination or retention of urine, pain and distention in the lower abdomen, dry mouth and throat, a yellow and greasy tongue coating, and a slippery and rapid pulse.
Modern: Gonorrhea, urinary tract infection, acute nephritis, cystitis, urethritis, acute prostatitis, stone in the urinary system, and pyelonephritis.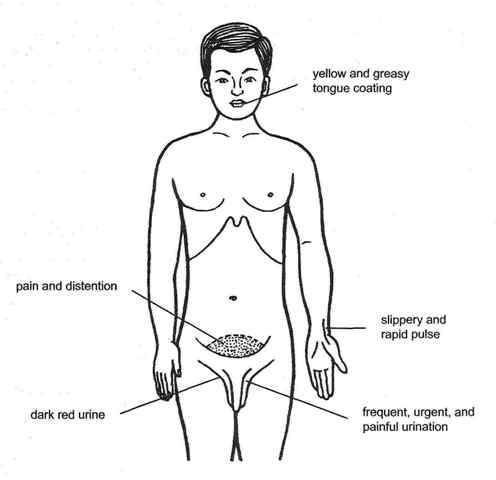 Pattern of Downward Flow of Damp-Heat
【Herbs and Actions】

Join our member to get full-text article! Join Free!
【Pharmacological Studies】for members only
【Clinical Applications】for members only
【Precaution】for members only
【Discriminations】for members only
【References】for members only
Related Posts