Commonly Used Chinese Herb Formulas with Illustrations - Bupleurum and Schizonepeta Combination (Shi Wei Bai Du San)
---
0217 十味敗毒散 (Shi Wei Bai Du San)
Bupleurum and Schizonepeta Combination
Ten-Ingredient Decoction to Overcome Pathogenic Influences
---
【Formulation】
| | | | |
| --- | --- | --- | --- |
| Chinese Name | Pharmaceutical Name | Pin Yin Name | English Name |
| 柴胡 | Radix Bupleuri | Chai Hu | |
| 桔梗 | Radix Platycodonis | Jie Geng | |
| 茯苓 | Poria | Fu Ling | |
| 川芎 | Rhizoma Chuanxiong | Chuan Xiong | |
| 櫻皮 | Cortex Pruni | Ying Pi | Cherry Bark |
| 防風 | Radix Saposhnikoviae | Fang Feng | |
| 獨活 | Radix Angelicae pubescentis | Du Huo | |
| 荊芥 | Herba Schizonepetae | Jing Jie | |
| 甘草 | Radix Glycyrrhizae | Gan Cao | |
| 生薑 | Rhizoma Zingiberis recens | Sheng Jiang | |
【Classic Literature Reference】
Seiju Hanaoka's clinical experience.
【Indications】
Traditional: Various suppurative skin ailments accompanied by a hypersensitive constitution.
Modern: Eczema, urticaria, acne, sties, boils, carbuncles, pimples, furuncles, lymphadenitis, mastitis, dermatitis, allergic ophthalmia, nasal suppurations, otitis media, and otitis externa.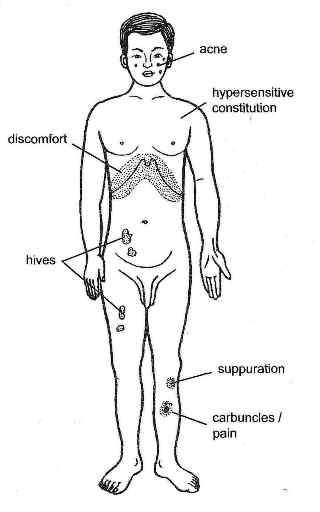 Suppurative Skin Disorders
【Herbs and Actions】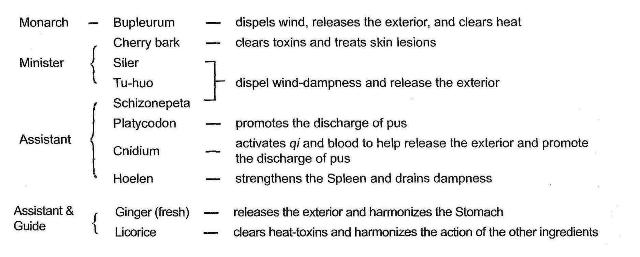 Join our member to get full-text article! Join Free!
【Pharmacological Studies】for members only
【Clinical Applications】for members only
【
References
】
for members only
Related Posts