Commonly Used Chinese Herb Formulas with Illustrations - Apricot Seed and Linum Formula (Ma Zi Ren Wan)
---
1117 麻子仁丸 (Ma Zi Ren Wan)
Hemp Seed Pill
---
【Formulation】
| | | | |
| --- | --- | --- | --- |
| Chinese Name | Pharmaceutical Name | Pin Yin Name | English Name |
| 麻子仁 | Fructus Cannabis | Ma Zi Ren | |
| 大黃 | Rhizoma Rhei | Da Huang | |
| 芍藥 | Radix Paeoniae alba | Shao Yao | |
| 枳實 | Fructus Aurantii immaturus | Zhi Shi | |
| 厚朴 | Cortex Magnoliae officinalis | Hou Pu | |
| 杏仁 | Semen Armeniacae amarum | Xing Ren | |
【Classic Literature Reference】
Shang Han Lun (Treatise on Febrile Diseases, 206).
Compiler: Zhang, Zhong-jingo
【Indications】
Traditional: Dry heat in the Stomach and Intestine accompanied by insufficient body fluids marked by dry and hard stool, difficult bowel movement, frequent urination, a dry and yellow tongue coating, and a floating and hesitant pulse. This condition typically occurs in the elderly or in physically weak individuals who have dry skin and lack adequate body fluids.
Modern: Habitual constipation, constipation in the elderly, postpartum or post-surgical constipation, incomplete intestinal obstruction, and hemorrhoids.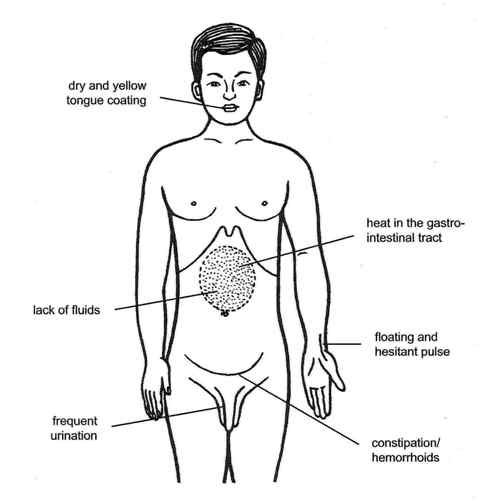 Pattern of Downward Flow of Damp-Heat
【Herbs and Actions】

Join our member to get full-text article! Join Free!
【Pharmacological Studies】for members only
【Clinical Applications】for members only
【Discriminations】for members only
【References】for members only
Related Posts