Commonly Used Chinese Herb Formulas with Illustrations - Dang Gui and Arctium Fromula (Xiao Feng San)
---
1003 消風散 (Xiao Feng San)
Eliminate Wind Powder
---
【Formulation】
| | | | |
| --- | --- | --- | --- |
| Chinese Name | Pharmaceutical Name | Pin Yin Name | English Name |
| 當歸 | Radix Angelicae sinensis | Dang Gui | |
| 生地黃 | Rhizoma Rehmanniae | Sheng Di Huang | |
| 防風 | Radix Saposhnikoviae | Fang Feng | |
| 蟬蛻 | Periostracum Cicadae | Chan Tui | |
| 知母 | Rhizoma Anemarrhenae | Zhi Mu | |
| 苦參 | Radix Sophorae flavescentis | Ku Shen | |
| 胡麻 | Semen Sesami nigrum | Hu Ma | Sesami |
| 荊芥 | Herba Schizonepetae | Jing Jie | |
| 蒼朮 | Rhizoma Atractylodis | Cang Zhu | |
| 牛蒡子 | Fructus Arctii | Niu Bang Zi | |
| 石膏 | Gypsum Fibrosum | Shi Gao | |
| 甘草 | Radix Glycyrrhizae | Gan Cao | |
| 木通 | Caulis Akebiae | Mu Tong | |
【Classic Literature Reference】
Wai Ke Zheng Zong (Orthodox Surgery, 1617).
Compiler: Chen, Shi-gong.
【Indications】
Traditional: Skin disorders due to wind-dampness or wind-heat, marked by skin rashes or cloudy maculae all over the body with itching and oozing liquid if scratching occurs; a white or yellow tongue coating; and a superficial, rapid, and forceful pulse.
Modern: Recalcitrant eczema, acute and chronic urticaria, atopic dermatitis, drug dermatitis, psoriasis, conjunctivitis, pruritus, prickly heat, acne, scabies, other skin diseases aggravated by hot weather, and acute nephritis.1,2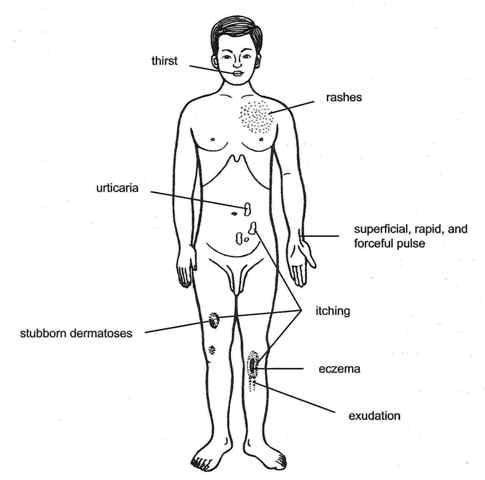 Pattern of Wind-Dampness/Wind-Heat
【Herbs and Actions】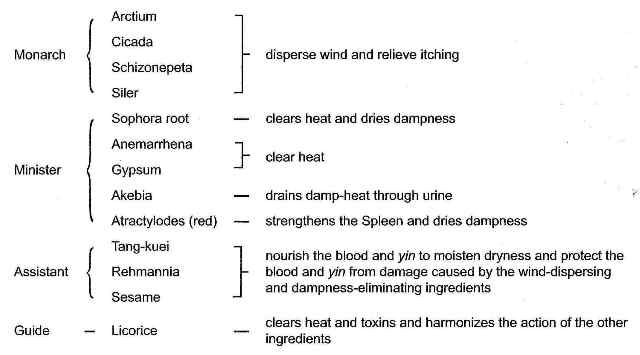 Join our member to get full-text article! Join Free!
【Pharmacological Studies】for members only
【Clinical Applications】for members only
【Precautions and Contraindications】for members only
【Discriminations】for members only
【References】for members only
Related Posts