Commonly Used Chinese Herb Formulas with Illustrations - Ginseng and Dang Gui Ten Combination (Shi Quan Da Bu Tang)
---
0215 十全大補湯 (Shi Quan Da Bu Tang)
Ginseng & Dang Gui Ten Combination
All-Inclusive Great Tonifying Decoction
---
【Formulation】
| | | | |
| --- | --- | --- | --- |
| Chinese Name | Pharmaceutical Name | Pin Yin Name | English Name |
| 茯苓 | Poria | Fu Ling | |
| 白朮 | Rhizoma Atractylodis macrocephalae | Bai Zhu | |
| 人參 | Radix Ginseng | Ren Shen | |
| 熟地黃 | Radix Rehmanniae praeparata | Shu Di Huang | |
| 白芍 | Radix Paeoniae alba | Bai Shao | |
| 炙甘草 | Radix Glycyrrhizae praeparata cum melle | Zhi Gan Cao | |
| 黃耆 | Radix Astragali | Huang Qi | |
| 肉桂 | Cortex Cinnamomi | Rou Gui | |
| 當歸 | Radix Angelicae sinensis | Dang Gui | |
| 川芎 | Rhizoma Chuanxiong | Chuan Xiong | |
| 生薑 | Rhizoma Zingiberis recens | Sheng Jiang | |
| 大棗 | Fructus Jujubae | Da Zao | |
【Classic Literature Reference】
Tai Ping Hui Min He Ji Ju Fang (Formulas of the Bureau of the People's Welfare Pharmacy,
1078).
Compiler: Chen, Shi-wen, et al.
【Indications】
Traditional: Qi and blood deficiency marked by a low energy level, shortness of breath, palpitation, insomnia, dizziness, poor appetite, chronic cough, weak and cold limbs, pale and sallow complexion, emaciation, heavy menstrual bleeding, chronic ulceration, a pale tongue, and a thready and weak pulse.
Modern: Debility following illness, childbirth, or surgery; anemia due to excessive bleeding; cancer; side effects due to chemotherapy or radiation; chronic atrophic gastritis; gastroptosis; leukopenia; Sheehan's syndrome; Meniere's disease; and hypoalbuminemia.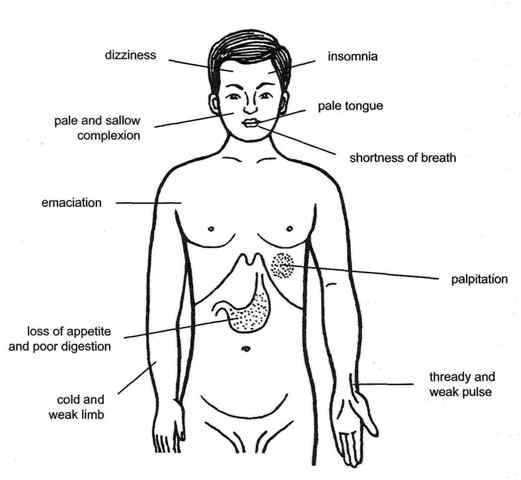 Pattern of Both Qi and Blood Deficiencies
【Herbs and Actions】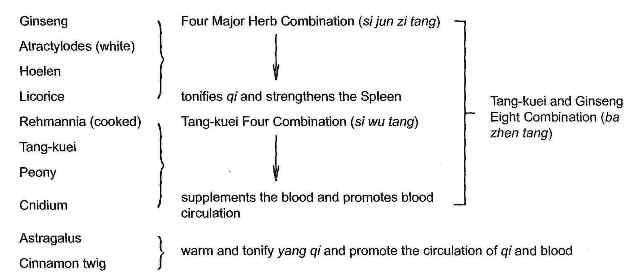 Join our member to get full-text article! Join Free!
【Pharmacological Studies】for members only
【Clinical Applications】for members only
【Precaution & Contraindications】for members only
【Discriminations】for members only
【References】for members only
Related Posts