Commonly Used Chinese Herb Formulas with Illustrations - Bupleurum and Mu Li Combination (Chai Hu Jia Long Gu Mu Li Tang)
---
0903 柴胡加龍骨牡蠣湯 (Chai Hu Jia Long Gu Mu Li Tang)
Bupleurum plus Dragon Bone and Oyster Shell Decoction
---
【Formulation】
| | | | |
| --- | --- | --- | --- |
| Chinese Name | Pharmaceutical Name | Pin Yin Name | English Name |
| 柴胡 | Radix Bupleuri | Chai Hu | |
| 龍骨 | Os Draconis | Long Gu | |
| 生薑 | Rhizoma Zingiberis recens | Sheng Jiang | |
| 人參 | Radix Ginseng | Ren Shen | |
| 茯苓 | Poria | Fu Ling | |
| 黃芩 | Radix Scutellariae | Huang Qin | |
| 牡蠣 | Concha Ostreae | Mu Li | |
| 桂枝 | Ramulus Cinnamomi | Gui Zhi | |
| 制半夏 | Rhizoma Pinelliae praeparatum | Zhi Ban Xia | |
| 大黃 | Rhizoma Rhei | Da Huang | |
| 大棗 | Fructus Jujubae | Da Zao | |
【Classic Literature Reference】
Shang Han Lun (Treatise on Febrile Diseases, 206).
Compiler: Zhang, Zhong-jingo
【Indications】
Traditional: The complication of shaoyang disease marked by fullness in the chest, irritability, palpitation, delirious speech, emotional instability, nervousness, fatigue, urinary difficulty, a sensation of heaviness throughout the body that cause motor dysfunction, and constipation; mania an convulsions may occur in severe cases.
Modern: Neurasthenia, hysteria, epilepsy depression, attention-deficit syndrome, menopausal syndrome, melancholia, neurotic palpitation, hypertension, arthrosclerosis, hyperthyroidism, insomnia, valvular disease, angina pectoris, and hemiplegia.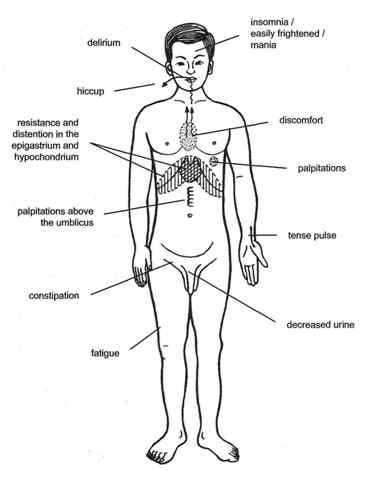 Complication of Shaoyang Disease
【Herbs and Actions】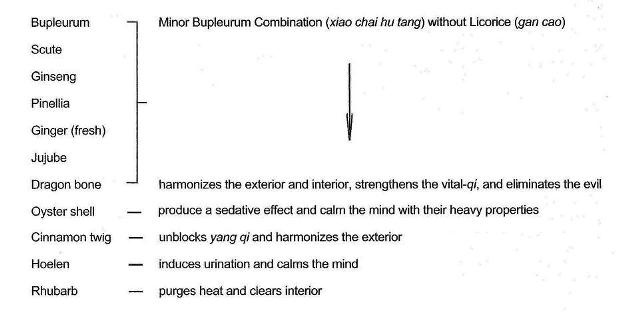 Join our member to get full-text article! Join Free!
【Pharmacological Studies】for members only
【Clinical Applications】for members only
【References】for members only
Related Posts