Commonly Used Chinese Herb Formulas with Illustrations - Cardamon and Fennel Formula (An Zhong San)
---
0601 安中散 (An Zhong San)
Calm the Middle Powder
---
【Formulation】
| | | | |
| --- | --- | --- | --- |
| Chinese Name | Pharmaceutical Name | Pin Yin Name | English Name |
| 甘草 | Radix Glycyrrhizae | Gan Cao | |
| 延胡索 | Rhizoma Corydalis | Yan Hu Suo | |
| 良薑 | Rhizoma Alpiniae officinarum | Liang Jiang | Galanga |
| 乾薑 | Rhizoma Zingiberis | Gan Jiang | |
| 茴香 | Fructus Foeniculi | Hui Xiang | |
| 肉桂 | Cortex Cinnamomi | Rou Gui | |
| 牡蠣 | Concha Ostreae | Mu Li | |
【Classic Literature Reference】
Tai Ping Hui Min He Ji Ju Fang (Formulas of the Bureau of the People's Welfare Pharmacy, 1078)
Compiler: Chen, Shi-wen et al.
【Indications】
Traditional: Deficient cold of the middle warmer marked by stomach aching, abdominal pain, a sensation of fullness and distention in the epigastrium, emaciation, nausea, vomiting, acid regurgitation, soft and flabby abdomen palpitations that feel as if they are located in the periumbilical area, a moist tongue with white coating, and a deficient and thready pulse. It is also used in females with stabbing pain in the lower abdomen and a thready and wiry pulse.
Modern: Gastric ulcer, duodenal ulcer, gastroxia, gastroptosis, chronic gastritis, dysmenorrheal, and pernicious vomiting.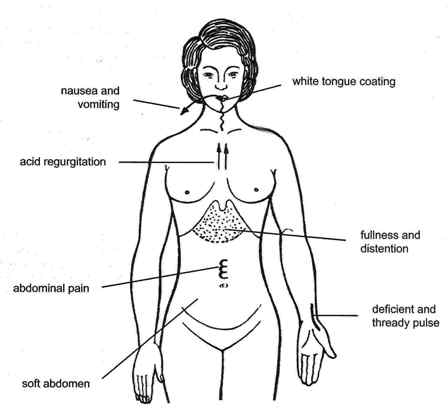 Pattern of Deficient Cold in the Middle Warmer
【Herbs and Actions】

Join our member to get full-text article! Join Free!
【Pharmacological Studies】for members only
【Discriminations】for members only
【References】for members only
Related Posts