Commonly Used Chinese Herb Formulas with Illustrations - Ma Huang & Ginkgo Combination (Ding Chuan Tang)
---
0802 定喘湯 (Ding Chuan Tang)
Arrest Wheezing Decoction
---
【Formulation】
| | | | |
| --- | --- | --- | --- |
| Chinese Name | Pharmaceutical Name | Pin Yin Name | English Name |
| 白果仁 | Semen Ginkgo | Bai Guo Ren | |
| 麻黃 | Herba Ephedrae | Ma Huang | |
| 款冬花 | Flos Farfarae | Kuan Dong Hua | |
| 桑白皮 | Cortex Mori | Sang Bai Pi | |
| 製半夏 | Rhizoma Pinelliae praeparatum | Zhi Ban Xia | |
| 蘇子 | Fructus Perillae | Su Zi | |
| 杏仁 | Semen Armeniacae amarum | Xing Ren | |
| 黃芩 | Radix Scutellariae | Huang Qin | |
| 甘草 | Radix Glycyrrhizae | Gan Cao | |
【Classic Literature Reference】
Zheng Zhi Zhun Sheng (Standards for Diagnosis and Treatment, 1602).
Compiler: Wang, Ken-Tang.
【Indications】
Traditional: External afflictions of wind-cold accompanied by internal accumulation of phlegm-heat marked by cough, rapid breathing, wheezing, profuse yellow sticky phlegm, a yellow and greasy tongue coating, and a slippery and rapid pulse.
Modern: Acute and chronic bronchitis, common cold, bronchial asthma, trachitis, and bronchopneumonia.

Pattern of Affliction of Wind-Cold Accompanied by Internal Accumulation of Phlegm-Heat
【Herbs and Actions】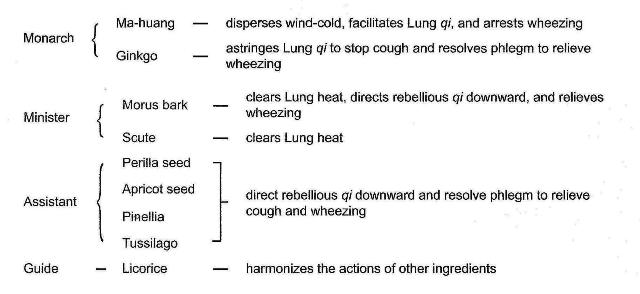 Join our member to get full-text article! Join Free!
【Pharmacological Studies】for members only
【Clinical Applications】for members only
【Precaution and Contraindications】for members only
【References】for members only
Related Posts