Commonly Used Chinese Herb Formulas with Illustrations - Bupleurum & Cinnamon Combination (Chai Hu Gui Zhi Tang)
---
0905 柴胡桂枝湯 (Chai Hu Gui Zhi Tang)
Bupleurum & Cinnamon Combination
Bupleurum and Cinnamon Twig Decoction
---
【Formulation】
| | | | |
| --- | --- | --- | --- |
| Chinese Name | Pharmaceutical Name | Pin Yin Name | English Name |
| 柴胡 | Radix Bupleuri | Chai Hu | |
| 製半夏 | Rhizoma Pinelliae praeparatum | Zhi Ban Xia | |
| 桂枝 | Ramulus Cinnamomi | Gui Zhi | |
| 芍藥 | Radix Paeoniae alba | Shao Yao | |
| 黃芩 | Radix Scutellariae | Huang Qin | |
| 大棗 | Fructus Jujubae | Da Zao | |
| 人參 | Radix Ginseng | Ren Shen | |
| 甘草 | Radix Glycyrrhizae | Gan Cao | |
| 生薑 | Rhizoma Zingiberis recens | Sheng Jiang | |
【Classic Literature Reference】
Shang Han Lun (Treatise on Febrile Diseases, 206).
Compiler: Zhang, Zhong-jingo
【Indications】
Traditional: The complex of taiyang and shaoyang diseases marked by fever, mild chills, joint pain, restlessness, nausea, vomiting, fullness and discomfort in the chest and hypochondrium, focal distention in the epigastrium, a thin white tongue coating, and a superficial or wiry pulse.
Modern: Common cold, influenza, pneumonia, peptic ulcer, hepatitis, cholecystitis, chronic appendicitis, peritonitis, nephritis, myelitis, intercostal neuralgia, hysteria, neurasthenia, neurosis, and epilepsy.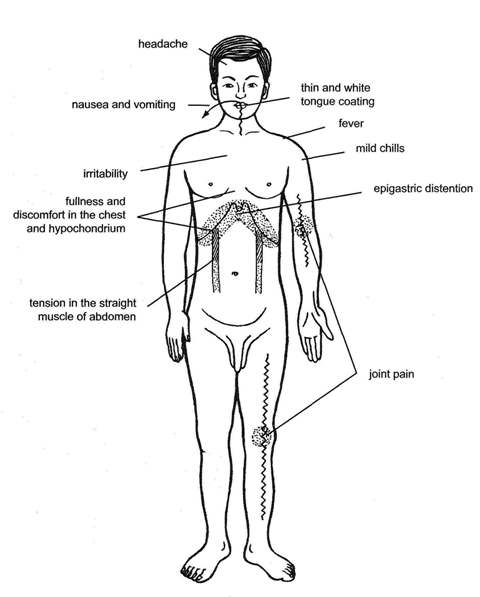 Complex of Shaoyang and Taiyang Diseases
【Herbs and Actions】

Join our member to get full-text article! Join Free!
【Pharmacological Studies】for members only
【Clinical Applications】for members only
【Precaution & Contraindications】for members only
【Discriminations】for members only
【References】for members only
Related Posts