Commonly Used Chinese Herb Formulas with Illustrations - Lycium Formula (Huan Shao Dan)
---
1702 還少丹 (Huan Shao Dan)
Return to Youth Pill
---
【Formulation】
| | | | |
| --- | --- | --- | --- |
| Chinese Name | Pharmaceutical Name | Pin Yin Name | English Name |
| 山藥 | Rhizoma Dioscoreae | Shan Yao | |
| 懷牛膝 | Radix Achyranthis bidentatae | Huai Niu Xi | |
| 茯苓 | Poria | Fu Ling | |
| 山茱萸 | Fructus Corni | Shan Zhu Yu | |
| 楮實 | Fructus Broussonetiae | Chu Shi | Paper Mulberry Fruit |
| 杜仲 | Cortex Eucommiae | Du Zhong | |
| 五味子 | Fructus Schisandrae chinensis | Wu Wei Zi | |
| 巴戟天 | Radix Morindae officinalis | Ba Ji Tian | |
| 肉蓯蓉 | Herba Cistanches tubulosae | Rou Cong Rong | |
| 遠志 | Radix Polygalae | Yuan Zhi | |
| 小茴香 | Fructus Foeniculi | Xiao Hui Xiang | |
| 石菖 | Rhizoma Acori tatarinowii | Shi Chang Pu | |
| 熟地黃 | Radix Rehmanniae praeparata | Shu Di Hiang | |
| 枸杞子 | Fructus Lycii | Gou Qi Zi | |
| 大棗 | Fructus Jujubae | Da Zao | |
【Classic Literature Reference】
Yang Shi Jia Cang Fang (Yang's Family Heritage Formulas, 1178)
Compiler: Yang, Tan
【Indications】
Traditional: Consumption disorders marked by fatigue; lassitude; weakness of the limbs; debility of the loins and knees; and a deep, forceless or thready, forceless pulse.
Modern: Premature aging, decreased libido, and chronic fatigue syndrome.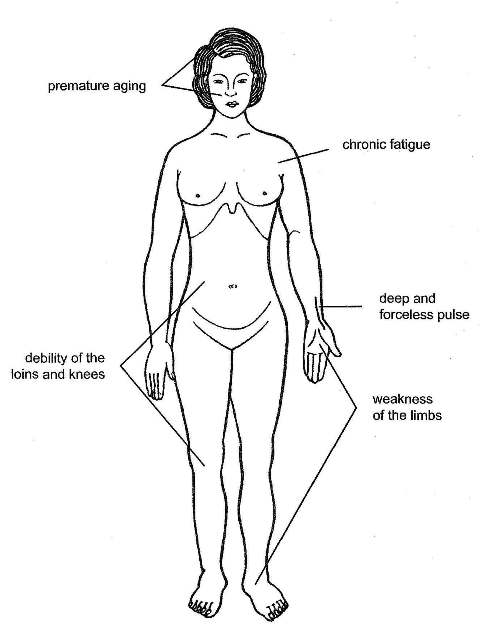 Pattern of Multi-Organ Deficiency
【Herbs and Actions】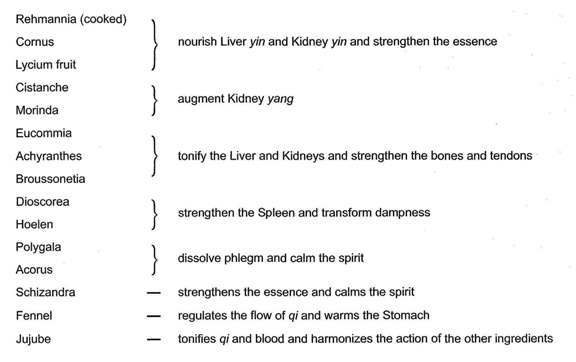 Join our member to get full-text article! Join Free!
【Pharmacological Studies】for members only
【Clinical Applications】for members only
【Precaution & Contraindications】for members only
【Discriminations】for members only
【References】for members only
Related Posts