Commonly Used Chinese Herb Formulas with Illustrations - Coix Combination (Yi Yi Ren Tang)
---
1701 薏苡仁湯 (Yi Yi Ren Tang)
Coicis Decoction
---
【Formulation】
| | | | |
| --- | --- | --- | --- |
| Chinese Name | Pharmaceutical Name | Pin Yin Name | English Name |
| 薏苡仁 | Semen Coicis | Yi Yi Ren | |
| 當歸 | Radix Angelicae sinensi | Dang Gui | |
| 芍藥 | Radix Paeoniae alba | Shao Yao | |
| 蒼朮 | Rhizoma Atractylodis | Cang Zhu | |
| 麻黃 | Herba Ephedrae | Ma Huang | |
| 桂枝 | Ramulus Cinnamomi | Gui Zhi | |
| 甘草 | Radix Glycyrrhizae | Gan Cao | |
| 生薑 | Radix Zingiberis recens | Sheng Jiang | |
【Classic Literature Reference】
Zhang Shi Yi Tong (Comprehensive Medicine According to Master Zhang, 1695)
Compiler: Zhang, Lu.
【Indications】
Traditional: Affliction of wind-cold-dampness marked by painful limbs accompanied by numbness and difficulty in stretching, and swelling in the limbs.
Modern: Rheumatoid arthritis, beriberi, nephritis, pulmonary edema, and pleurisy.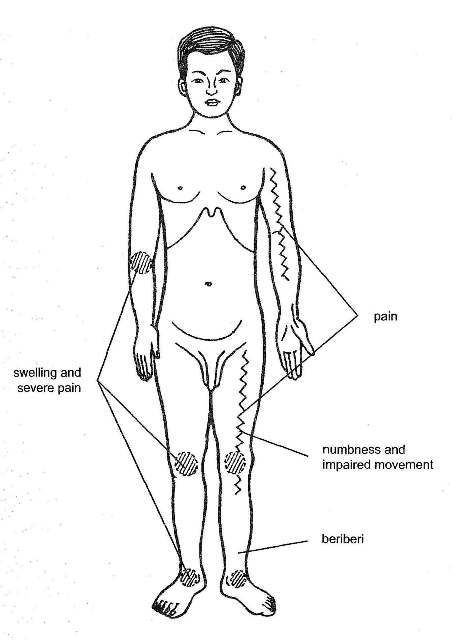 Pattern of Affliction of Wind-Cold-Dampness
【Herbs and Actions】

Join our member to get full-text article! Join Free!
【Commentary】for members only
【Precaution & Contraindications】for members only
【Discriminations】for members only
Related Posts