Commonly Used Chinese Herb Formulas with Illustrations - Achyranthes and Plantago Formula (Ji Sheng Shen Qi Wan)
---
1703 濟生腎氣丸 (Ji Sheng Shen Qi Wan)
Achyranthes and Plantago Formula
Kidney Qi Pill from Formulas to Aid the Living
---
【Formulation】
| | | | |
| --- | --- | --- | --- |
| Chinese Name | Pharmaceutical Name | Pin Yin Name | English Name |
| 熟地黃 | Radix Rehmanniae praeparata | Shu Di Huang | |
| 茯苓 | Poria | Fu Ling | |
| 山茱萸 | Fructus Corni | Shan Zhu Yu | |
| 山藥 | Rhizoma Dioscoreae | Shan Yao | |
| 牡丹皮 | Cortex Moutan | Mu Dan Pi | |
| 澤瀉 | Rhizoma Alismatis | Ze Xie | |
| 懷牛膝 | Radix Achyranthis bidentatae | Huai Niu Xi | |
| 車前子 | Semen Plantaginis | Che Qian Zi | |
| 炮附子 | Radix Aconiti Lateralis praeparata | Pao Fu Zi | |
| 肉桂 | Cortex Cinnamomi | Rou Gui | |
【Classic Literature Reference】
Ji Sheng Fang (Life-preserving Prescriptions, 1253).
Compiler: Yan, Yong-he
【Indications】
Traditional: Kidney yang deficiency with water retention marked by a heavy sensation in the lumbar region; edema of the legs; scanty urination; intolerance of cold; cold extremities; cough or wheezing with profuse phlegm; a pale, tooth-marked tongue with white, slippery coating; and a deep, thready, and a wiry pulse.
Modern: Chronic nephritis, renal calculi, prostatosis, diabetes, renal tuberculosis, enuresis, dysuria, infertility, sciatica, beriberi, neurasthenia, and nocturnal emission.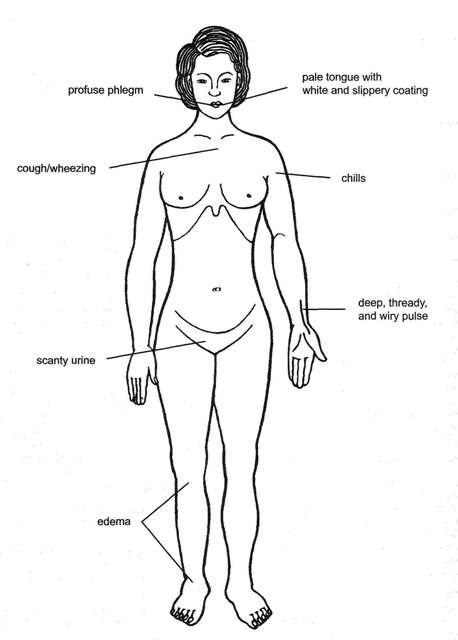 Pattern of Kidney Yang Deficiency with Water Retention
【Herbs and Actions】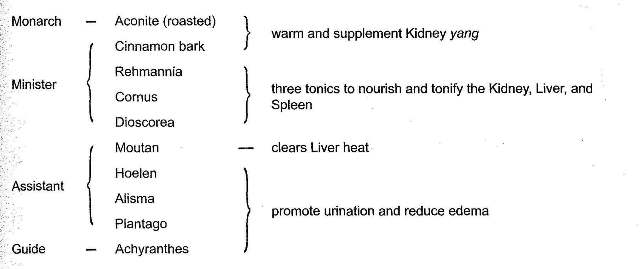 Join our member to get full-text article! Join Free!
【Pharmacological Studies】for members only
【Clinical Applications】for members only
【Precaution & Contraindications】for members only
【References】for members only
Related Posts