Commonly Used Chinese Herb Formulas with Illustrations - Cinnamon and Hoelen Formula (Gui Zhi Fu Ling Wan)
---
1015 桂枝茯苓丸 (Gui Zhi Fu Ling Wan)
Cinnamon Twig and Poria Pill
---
【Formulation】
| | | | |
| --- | --- | --- | --- |
| Chinese Name | Pharmaceutical Name | Pin Yin Name | English Name |
| 桂枝 | Ramulus Cinnamomi | Gui Zhi | |
| 茯苓 | Poria | Fu Ling | |
| 牡丹皮 | Cortex Moutan | Mu Dan Pi | |
| 桃仁 | Semen Persicae | Tao Ren | |
| 赤芍 | Radix Paeoniae rubra | Chi Shao | |
【Classic Literature Reference】
Jin Gui Yao Lue (Essentials from the Golden Chamber, 206).
Compiler: Zhang, Zhong-jingo.
【Indications】
Traditional: Blood stagnancy in the uterus marked by mild and persistent uterine bleeding of purple or dark blood during pregnancy accompanied by abdominal pain that is aggravated by pressure; or masses in the lower abdomen with fixed pain and discomfort, or retention of the lochia; or dysmenorrhea with blood clots or amenorrhea with abdominal pain. A purple tongue or dark spots on the tongue and a wiry pulse are common signs.
Modern: Gynecological disorders such as hysteromyoma, ovarian cysts, endometriosis, ovaritis, dysmonorrhea, irregular menstruation, lochioschesis, leukorrhea, pelvic tumor, pelvic inflammation, infertility; skin disorders such as eczema, urticaria, dermatitis, black spots, pimples, frostbite; nervous disorders such as neuropathy, nervousness, hysteria, neurosis; eye disorders such as sties, hemophthalmus, blepharitis, keratitis; lumbago, stiff and aching shoulders, headache, hypertension, arthritis, neuralgia, and rheumatism.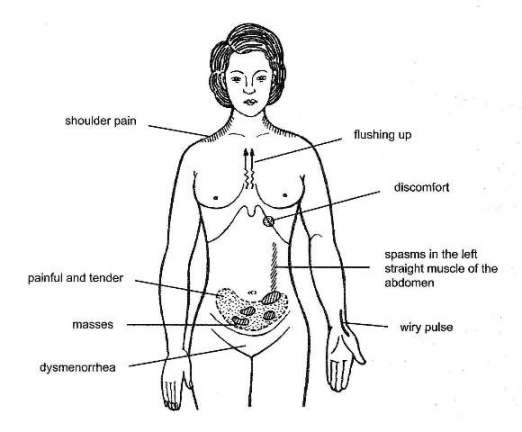 Pattern of Blood Stagnancy in the Uterus
【Herbs and Actions】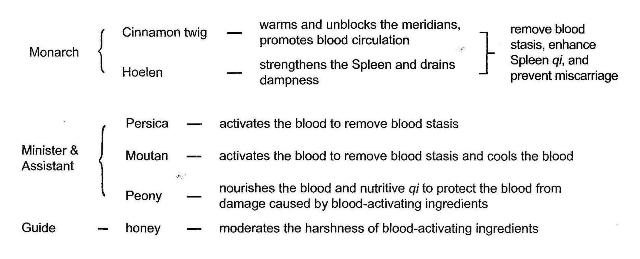 Join our member to get full-text article! Join Free!
【Pharmacological Studies】for members only
【Clinical Applications】for members only
【Precaution & Contraindications】for members only
【Discriminations】for members only
【References】for members only
Related Posts