Commonly Used Chinese Herb Formulas with Illustrations - Lonicera and Forsythia Formula (Yin Qiao San)
---
1402 銀翹散 (Yin Qiao San)
Lonicera and Forsythia Formula
Lonicera and Forsythia Powder
---
【Formulation】
| | | | |
| --- | --- | --- | --- |
| Chinese Name | Pharmaceutical Name | Pin Yin Name | English Name |
| 連翹 | Fructus Forsythiae | Lian Qiao | |
| 金銀花 | Flos Lonicerae japonicae | Jin Yin Hua | |
| 桔梗 | Radix Platycodonis | Jie Geng | |
| 薄荷 | Herba Menthae | Bo He | |
| 牛蒡子 | Fructus Arctii | Niu Bang Zi | |
| 甘草 | Radix Glycyrrhizae | Gan Cao | |
| 淡豆豉 | Semen Sojae praeparatum | Dan Dou Shi | |
| 淡竹葉 | Herba Lophatheri | Dan Zhu Ye | |
| 荊芥 | Herba Schizonepetae | Jing Jie | |
| 蘆根 | Rhizoma Phragmitis | Lu Gen | |
【Classic Literature Reference】
Wen Bing Tiao Bian (Discrimination of Febrile Diseases, 1798).
Compiler: Wu, Tang.
【Indications】
Traditional: Early stage of febrile diseases marked by fever, mild chills, little or no perspiration, cough, sore throat, headache, thirst, red tongue tip with a thin white or thin yellow tongue coating, and a superficial rapid pulse.
Modern: Common cold, influenza, acute tonsillitis, pharyngitis, parotitis, and initial stages of pneumonia, encephalitis B, epidemic cerebrospinal meningitis, measles, and mumps.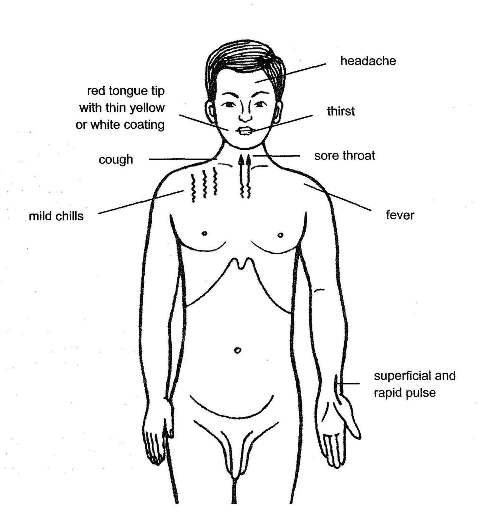 Exterior Heat Pattern
【Herbs and Actions】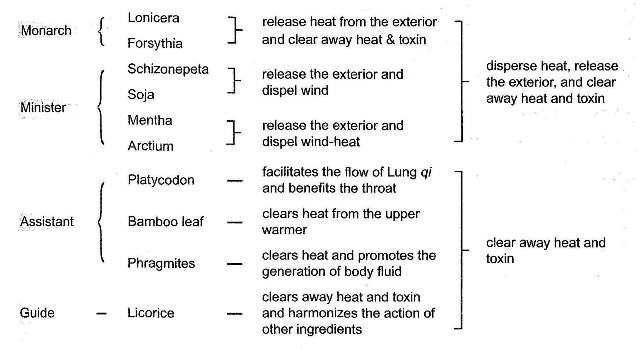 Join our member to get full-text article! Join Free!
【Pharmacological Studies】for members only
【Clinical Applications】for members only
【References】for members only
Related Posts