Commonly Used Chinese Herb Formulas with Illustrations - Tang-kuei and Gelatin Combination (Qiong Gui Jiao Ai Tang)
---
0705 芎歸膠艾湯 (Qiong Gui Jiao Ai Tang)
Tang-kuei and Gelatin Combination
Ligusticum Chuanxiong, Tang-kuei, Ass-Hide Gelatin, and Mugwort Decoction
---
【Formulation】
| | | | |
| --- | --- | --- | --- |
| Chinese Name | Pharmaceutical Name | Pin Yin Name | English Name |
| 生地黃 | Radix Rehmannia | Sheng Di Huang | |
| 白芍 | Radix Paeoniae alba | Bai Shao | |
| 艾葉 | Folium Artemisiae argyi | Ai Ye | Argy Leaf |
| 當歸 | Radix Angelicae sinensis | Dang Gui | |
| 川芎 | Rhizoma Chuanxiong | Chuan Xiong | |
| 阿膠 | Colla Corii Asini | E Jiao | |
| 甘草 | Radix Glycyrrhizae | Gan Cao | |
【Classic Literature Reference】
Jin Gui Yao Lue (Essentials from the Golden Chamber, 206).
Compiler: Zhang, Zhong-jingo
【Indications】
Traditional: Deficiency of penetrating (chong) and conception (ren) meridians marked by excessive menstruation; or bleeding and abdominal pain during pregnancy; or persistent bleeding after miscarriage, a pale complexion a pale tongue, and a thready and weak or thready and wiry pulse.
Modern: Dysfunctional uterine bleeding endometritis, miscarriage, excessive menstruation, ectopic pregnancy, primary infertility, and postpartum subinvolution of the uterus. Currently, this formula is also used in the treatment of bleeding caused by hemorrhoid, ulcerative colitis, Crohn's disease, hemorrhagic nephritis, bleeding polyp, traumatic injury, peptic ulcer, and primary thrombocytopenic purpura.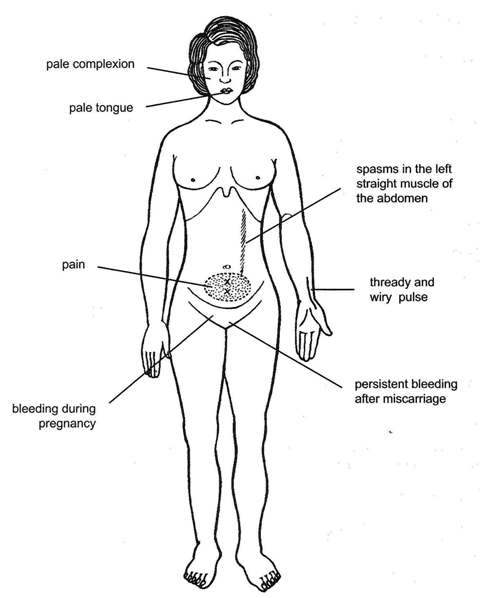 Pattern of Deficiency of the Penetrating and Conception Meridians
【Herbs and Actions】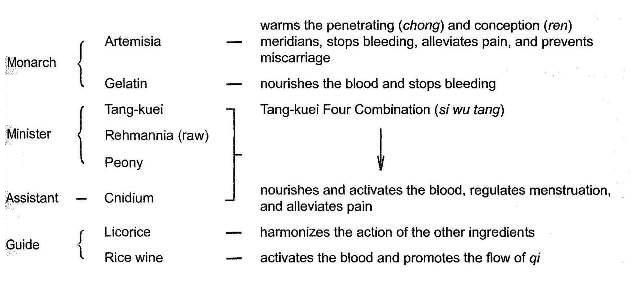 Join our member to get full-text article! Join Free!
【Clinical Applications】for members only
【Precaution & Contraindications】for members only
【References】for members only
Related Posts