Commonly Used Chinese Herb Formulas with Illustrations - Anemarrhena, Phellodendron, and Rehmannia Formula (Zhi Bo Di Huang Wan)
---
0805 知柏地黃丸 (Zhi Bo Di Huang Wan)
Anemarrhena, Phellodendron, and Rehmannia Formula
Anemarrhena, Phellodendron, and Rehmannia Pill
---
【Formulation】
| | | | |
| --- | --- | --- | --- |
| Chinese Name | Pharmaceutical Name | Pin Yin Name | English Name |
| 熟地黃 | Radix Rehmanniae praeparata | Shu Di Huang | |
| 山茱萸 | Fructus Corni | Shan Zhu Yu | |
| 山藥 | Rhizoma Dioscoreae | Shan Yao | |
| 茯苓 | Poria | Fu Ling | |
| 澤瀉 | Rhizoma Alismatis | Ze Xie | |
| 牡丹皮 | Cortex Moutan | Mu Dan Pi | |
| 知母 | Rhizoma Anemarrhenae | Zhi Mu | |
| 黃柏 | Cortex Phellodendr | Huang Bo | |
【Classic Literature Reference】
Yi Fang Ji Jie (Explanation of Collection of Medical Formulae, 1682)
Compiler: Wang, Ang.
【Indications】
Traditional: Hyperactivity of fire due to yin deficiency marked by consumptive heat or steaming bone symptoms, night sweating, dizziness, soreness and pain along the spinal column, irritability, spermatorrhea, a red tongue with little coating, and a thready and rapid pulse.
Modern: Diabetes, hypertension, chronic nephritis, infertility, neurasthenia, hyperoidism, spermatorrhea, chronic laryngopharyngitis and chronic urethritis.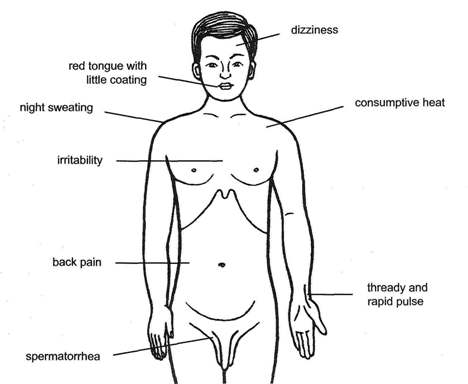 Pattern of Hyperactivity of Fire due to Yin Deficiency
【Herbs and Actions】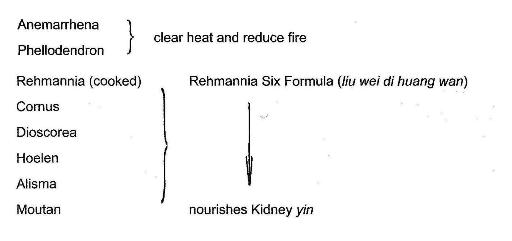 Join our member to get full-text article! Join Free!
【Pharmacological Studies】for members only
【Clinical Applications】for members only
【Precaution & Contraindications】for members only
【Discriminations】for members only
Related Posts