Commonly Used Chinese Herb Formulas with Illustrations - Dang Gui & Cuscuta Combination (Bao Chan Wu You Fang)
---
0910 保產無憂方 (Bao Chan Wu You Fang)
Dang Gui & Cuscuta Combination
Calm the Fetus Decoction
---
【Formulation】
| | | | |
| --- | --- | --- | --- |
| Chinese Name | Pharmaceutical Name | Pin Yin Name | English Name |
| 當歸 | Radix Angelicae sinensis | Dang Gui | |
| 黃耆 | Radix Astragali | Huang Qi | |
| 菟絲子 | Semen Cuscutae | Tu Si Zi | |
| 川貝母 | Bulbus Fritillariae cirrhosae | Chuan Bei Mu | Fritillaria |
| 枳殼 | Fructus Aurantii | Zhi Ke | |
| 厚朴 | Cortex Magnoliae officinalis | Hou Po | |
| 甘草 | Radix Glycyrrhizae | Gan Cao | |
| 川芎 | Rhizoma Chuanxiong | Chuan Xiong | |
| 荊芥 | Herba Schizonepetae | Jing Jie | |
| 羌活 | Rhizoma et Radix Notopterygii | Qiang Huo | |
| 白芍 | Radix Paeoniae alba | Bai Shao | |
| 艾葉 | Folium Artemisiae argyi | Ai Ye | Mugwort Leaf |
| 生薑 | Rhizoma Zingiberis recens | Sheng Jiang | |
【Classic Literature Reference】
Yan Fang Xin Bian (A New Compilation of Efficacious Prescriptions, 1846).
Compiler: Bao, Xiang-ao.
【Indications】
Traditional: Blood deficiency with damp-phlegm retention during pregnancy marked by lower abdominal pain and low back pain, vaginal bleeding, vomiting, excess phlegm, irritability, heavy-headedness, dizziness, a flabby tongue with greasy coating, and a thready and soft pulse. It is also used to aid with a smooth delivery or a delivery of a dead fetus.
Modern: Difficult labor, abdominal and low back pain during pregnancy due to unstable gestation.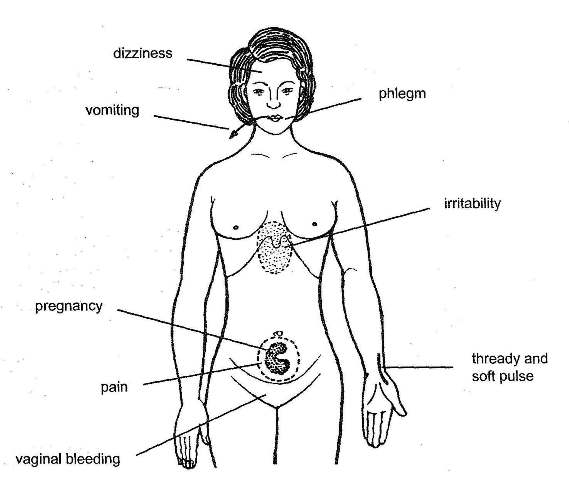 Pattern of Blood Deficiency with Damp-Phlegm Retention during Pregnancy
【Herbs and Actions】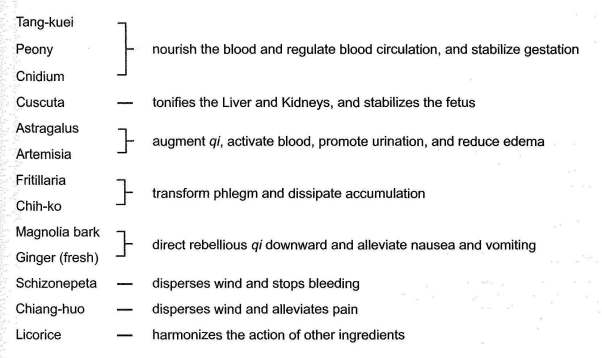 Join our member to get full-text article! Join Free!
【Discriminations】for members only
Related Posts