Commonly Used Chinese Herb Formulas with Illustrations - Bupleurum Formula (Yi Gan San)
---
1015 抑肝散 (Yi Gan San)
Restrain the Liver Powder
---
【Formulation】
| | | | |
| --- | --- | --- | --- |
| Chinese Name | Pharmaceutical Name | Pin Yin Name | English Name |
| 當歸 | Radix Angelicae sinensis | Dang Gui | |
| 白朮 | Rhizoma Atractylodis macrocephalae | Bai Zhu | |
| 茯苓 | Poria | Fu Ling | |
| 鈎藤 | Ramulus Uncariae cum Uncis | Gou Teng | |
| 川芎 | Rhizoma Chuanxiong | Chuan Xiong | |
| 甘草 | Radix Glycyrrhizae | Gan Cao | |
| 柴胡 | Radix Bupleuri | Chai Hu | |
【Classic Literature Reference】
Zheng Zhi Zhun Sheng (Standards of Diagnosis and Treatment, 1602).
Compiler: Wang, Kentang.
【Indications】
Traditional: Infantile deficient heat in the Liver channel marked by fever and muscle spasms; or fever with clenching of the teeth; or fright, convulsions, and alternating cold and fever; or vomiting, spitting of sputum and saliva, abdominal distention, poor appetite, and restless sleep.
Modern: Epilepsy, neurosis, hysteria, insomnia, night terror, night crying in infants, and menopausal syndrome.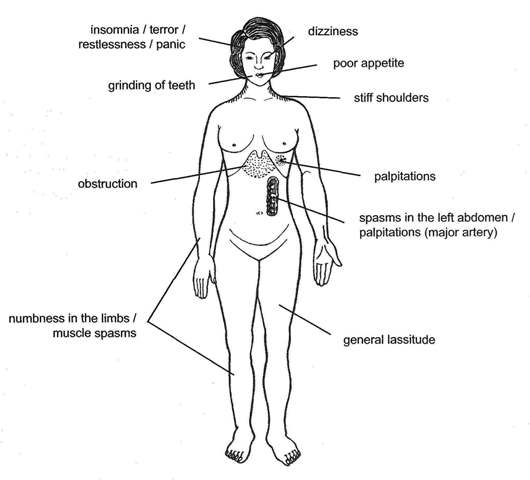 Pattern of Deficient Heat in the Liver Channel
【Herbs and Actions】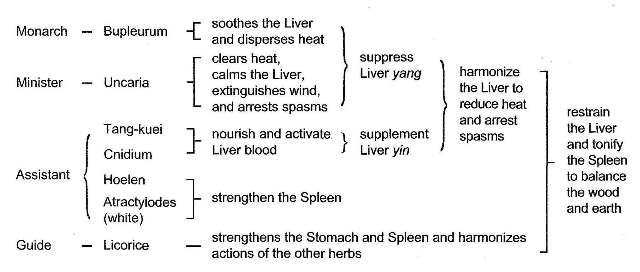 Join our member to get full-text article! Join Free!
【Commentary】for members only
Related Posts