Commonly Used Chinese Herb Formulas with Illustrations - Four Major Herb Combination (Si Jun Zi Tang)
---
0508 四君子湯 (Si Jun Zi Tang)
Four-Gentleman Decoction
---
【Formulation】
| | | | |
| --- | --- | --- | --- |
| Chinese Name | Pharmaceutical Name | Pin Yin Name | English Name |
| 人參 | Radix Ginseng | Ren Shen | |
| 茯苓 | Poria | Fu Ling | |
| | Rhizoma Atractylodis macrocephalae | Bai Zhu | |
| 炙甘草 | Radix Glycyrrhizae praeparata cum melle | Zhi Gan Cao | |
| 生薑 | Rhizoma Zingiberis recens | Sheng Jiang | |
| 大棗 | Fructus Jujubae | Da Zao | |
【Classic Literature Reference】
Yi Fang Ji Jie (Explanation of Collection of Medical Formulae, 1682)
Compiler: Wang, Ang.
【Indications】
Traditional: Spleen and Stomach deficiency marked by a pale complexion, low and soft voice, weakness of the limbs, poor appetite, loose stools, a pale tongue, and a thready and soft pulse.
Modern: Gastrointestinal dysfunction, gastroptosis, gastroatonia, gastritis, peptic ulcer, chronic hepatitis, or other chronic disorders with Spleen qi deficiency.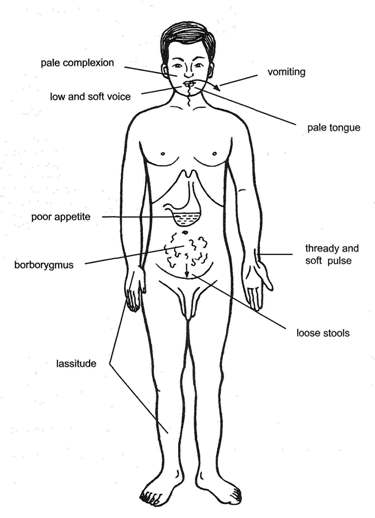 Pattern of Spleen Qi Deficiency
【Herbs and Actions】

Join our member to get full-text article! Join Free!
【Pharmacological Studies】for members only
【Clinical Applications】for members only
【Precaution & Contraindications】for members only
【Discriminations】for members only
【References】for members only
Related Posts