Commonly Used Chinese Herb Formulas with Illustrations - Dang Gui & Peony Formula (Dang Gui Shao Yao San)
---
1317 當歸芍藥散 (Dang Gui Shao Yao San)
Tang-kuei and Peony Powder
---
【Formulation】
| | | | |
| --- | --- | --- | --- |
| Chinese Name | Pharmaceutical Name | Pin Yin Name | English Name |
| 白芍 | Radix Paenoiae alba | Bai Shao | |
| 澤瀉 | Rhizoma Alismatis | Ze Xie | |
| 川芎 | Rhizoma Chuanxiong | Chuan Xiong | |
| 茯苓 | Poria | Fu Ling | |
| 白朮 | Rhizoma Atractylodis macrocephalae | Bai Zhu | |
| 當歸 | Radix Angelicae sinensis | Dang Gui | |
【Classic Literature Reference】
Jin Gui Yao Lue (Essentials from the Golden Chamber, 206).
Compiler: Zhang, Zhong-jingo
【Indications】
Traditional: Disharmony between the Liver and Spleen (Liver blood deficiency and Spleen dysfunction with damp retention) during pregnancy marked by continuous dull pain in the abdomen, difficult urination, ankle edema, sallow and lusterless complexion, and fatigue.
Modern: Miscarriage, toxemia of pregnancy, abnormal fetal position, functional uterine bleeding, infertility, irregular menstruation, menopausal syndrome, PMS, chronic hepatitis, chronic nephritis, iron-deficiency anemia, peptic ulcer, enlargement of prostate, angina pectoris, hypotension, primary dysmenorrhea, pelvic inflammation, and beriberi.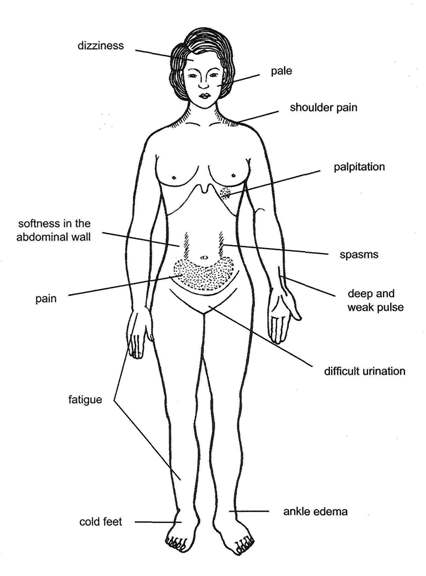 Pattern of Disharmony between the Liver and Spleen
【Herbs and Actions】

Join our member to get full-text article! Join Free!
【Pharmacological Studies】for members only
【Clinical Applications】for members only
【Precaution & Contraindications】for members only
【Discriminations】for members only
【References】for members only
Related Posts