Webinar : Integrative Supportive Care for Cancer Patients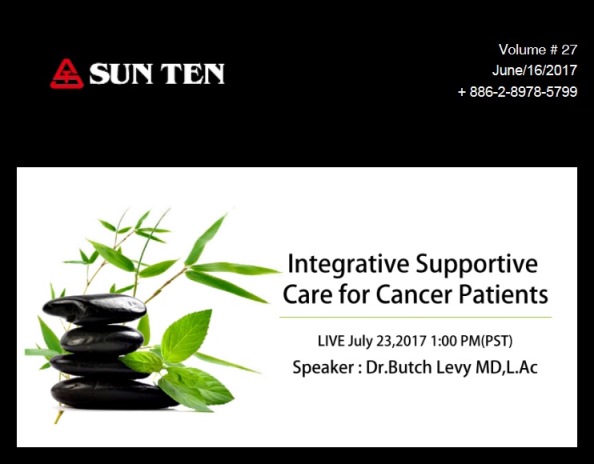 Integrative Supportive Care for Cancer Patients
Speaker : Dr.Butch Levy MD,L.Ac
* For health care practitioners only.
This seminar will provide cutting edge information, and its application, during all phases of cancer care. Utilizing current knowledge from Western Medicine, Functional nutritional approaches and Asian acupuncture and herbal therapies, patients can be supported through diagnosis, treatment and recovery. The goal is to bridge the East and West and help our patients navigate their illness successfully.
Presenter : Dr. Butch Levy MD, L.Ac
Date : July 23rd, 2017 (Sunday)
Time : 1:00PM to 5:30PM (PST)
Location : Sun Ten Laboratories - 9250 Jeronimo Rd. Irvine, CA 92618
Language : English
Cost : $50
LIVE from Irvine, California and LIVE webinar
CEU : Yes - 4hrs (California & NCCAOM approved)
To participate in this informative CEU and to register please contact us at: 1-800-333-4372 or webinar@sunten.com
Limited space for in-person; so register early !
Last day to register : 07/14/17
Related Posts