Clinical Study Proves Effectiveness of Sun Ten Magnolia Formula (Xin Yi San) on Nasal Allergy


In a randomized double-blind study, 108 patients with allergic rhinitis received either Magnolia Formula (Xin Yi San, XYS)or a placebo for 3 months. The effectiveness of XYS was evaluated by nasal symptoms, nasal airflow resistance, nostril dissection area, and serum titer of specific IgE antibodies against house dust mite allergens....

TCM Principles: The Basics of IBS


Although there are different combinations of patterns according to the individual constitution of the patient, the root cause in every IBS patient seems to be a disharmony of the liver and spleen. Thus, even if you are not familiar with single herbs and the fine-tuning of formulas according to complex multiple patterns....

Eating Right from a TCM Standpoint: Controls Dyslipidemia


Eating the right foods can control dyslipidemia, the abnormal amounts of cholesterol and/or fat in the blood. In a lecture made by Taipei City Hospital Renai Branch TCM Director Dr. Tsao-Zhong Chen, suitable quantities of Fructus Crataegi (Shan Zha) or Fructus Lycii (Gou Qi Zi)....

Chronic Pain and CAM: What the Science Says

Reviews of research on acupuncture, massage, and spinal manipulation for chronic low-back pain have found evidence that these therapies may be beneficial. Clinical practice guidelines issued by the American College of Physicians/American Pain Society....


Sourcing for the Premium Scutellaria Barbata (Ban Zhi Lian): The Cultivation Site Inspection Report



Scutellaria Barbata (Ban Zhi Lian) is a perennial herbaceous plant that thrives in warm and moist climates. It is best grown in loose, fertile soil with good drainage or in sandy soil. It can be propagated from both seed and cuttings, but direct sowing of seeds is the primary planting method....




Lily Combination (Bai He Gu Jin Tang)



This formula is traditionally used for coughing with blood-streaked sputum, wheezing, a dry and sore throat, hot palms and soles,night sweats, a red tongue with little coating, and a thin, rapid pulse....


Chinese Medicine Can Effectively Modulate the Multiple Drug Resistance of Cancer Cells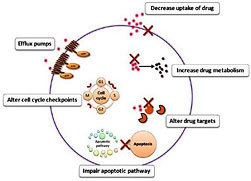 Multi-drug resistance (MDR) of cancer cells severely limits therapeutic outcomes. Many researchers are looking into Chinese medicine (CM) for potential MDR reversing agents. This article reviews some of the recent findings on the circumvention of ABC transporters-mediated MDR by various ingredients and extracts of CM and their formulae based on whether the MDR reversal involved Pgp alteration....