Commonly Used Chinese Herb Formulas with Illustrations - Pogostemon Formula (Huo Xiang Zheng Qi San)
2002 藿香正氣散 (Huo Xiang Zheng Qi San)
Pogostemon Powder to Rectify the Qi
---
【Formulation】
| | | | |
| --- | --- | --- | --- |
| Chinese Name | Pharmaceutical Name | Pin Yin Name | English Name |
| 大腹皮 | Pericarpium Arecae | Da Fu Pi | |
| 茯苓 | Poria | Fu Ling | |
| 白芷 | Radix Angelicae dahuricae | Bai Zhi | |
| 紫蘇葉 | Folium Perillae | Zi Su Ye | |
| 藿香 | Herba Pogostemonis | Huo Xiang | |
| 生薑 | Rhizoma Zingiberis recens | Sheng Jiang | |
| 陳皮 | Pericarpium Citri reticulatae | Chen Pi | |
| 桔梗 | Radix Platycodonis | Jie Geng | |
| 白朮 | Rhizoma Atractylodis macrocephalae | Bai Zhu | |
| 厚朴 | Cortex Magnoliae officinalis | Hou Pu | |
| 半夏麴 | Rhizoma Pinelliae fermentatae | Ban Xia Qu | |
| 炙甘草 | Radix Glycyrrhizae praeparata cum melle | Zhi Gan Cao | |
| 大棗 | Fructus Jujubae | Da Zao | |
【Classic Literature Reference】
Tai Ping Hui Min He Ji Ju Fang (Formulas of the Bureau of the People's Welfare Pharmacy, 1078).
Compiler: Chen, Shi-wen et al.
【Indications】
Traditional:

Affliction of wind-cold with internal damp accumulation marked by fever, aversion to cold, headache, a sensation of fullness and discomfort in the chest and epigastrium, abdominal pain, vomiting, diarrhea, borborygmus, loss of taste, and a white and greasy tongue coating.
Modern:

Common cold, influenza, stomach flu, acute gastroenteritis, acute or chronic colitis, peptic ulcer, acidosis, urticaria, acute food poisoning, heatstroke, and infantile diarrhea.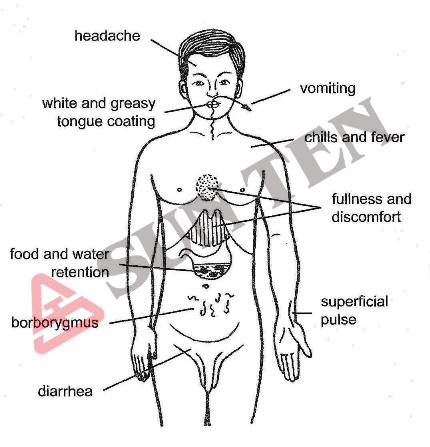 Pattern of Affliction of Wind-Cold with Internal Damp Accumulation
【Herbs and Actions】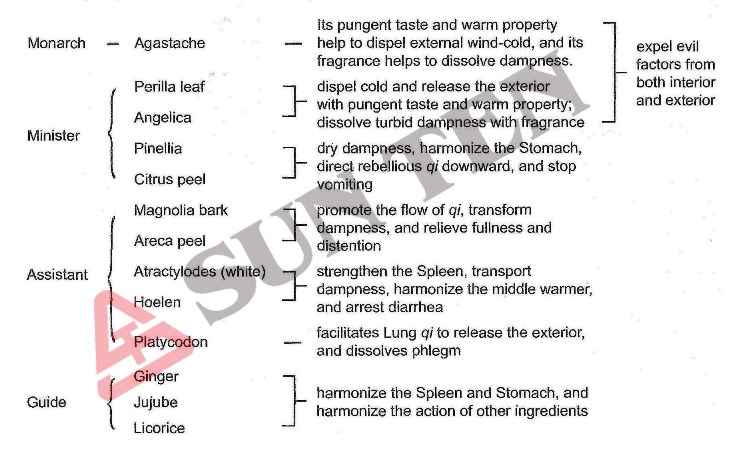 Join our member to get full-text article! Join Free!
【Pharmacological Studies】for members only
【Clinical Applications】for members only
【Precaution & Contraindicaton】for members only
【Toxicity】for members only
【Discriminations】for members only
【References】for members only
Related Posts