Commonly Used Chinese Herb Formulas with Illustrations - Adenophora and Ophiopogon Combination (Sha Shen Mai Dong Tang)
---
0715 沙參麥冬湯 (Sha Shen Mai Dong Tang)
Adenophora & Ophiopogon Combination
Glehnia and Ophiopogonis Decoction
---
【Formulation】
| | | | |
| --- | --- | --- | --- |
| Chinese Name | Pharmaceutical Name | Pin Yin Name | English Name |
| 北沙參 | Radix Glehniae | Bei Sha Shen | |
| 麥門冬 | Radix Ophiopogonis | Mai Men Dong | |
| 玉竹 | Rhizoma Polygonati odorati | Yu Zhu | |
| 甘草 | Radix Glycyrrhizae | Gan Cao | |
| 桑葉 | Folium Mori | Sang Ye | |
| 生扁豆 | Semen Lablab album | Sheng Bian Dou | |
| 瓜蔞根 | Radix Trichosanthis | Gua Lou Gen | |
【Classic Literature Reference】
Wen Bing Tiao Bian (Discrimination of Feverish Diseases, 1798).
Compiler: Wu, Tang.
【Indications】
Traditional: Injury of Lung yin and Stomach yin caused by dryness, marked by a dry mouth and throat, thirst, mild fever and dry cough with scanty phlegm, and a red tongue with little coating. It is also used in the end stage of infantile measles when the maculae are gradually disappearing, fever is subsiding and the appetite and the spirit are recovering.
Modern: Bronchitis, pulmonary tuberculosis, pleuritis, stomatitis, chronic laryngopharyngitis, atrophic gastritis, psoriasis, the convalescent stage of infantile measles, diabetes, and pediatric persisting pneumonia.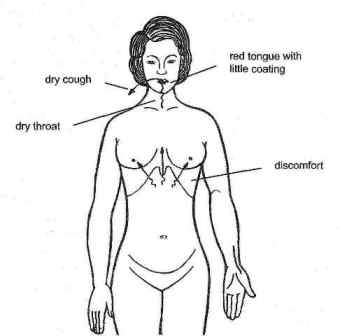 Pattern of Lung and Stomach Yin Injury due to Dryness
【Herbs and Actions】

Join our member to get full-text article! Join Free!
【Pharmacological Studies】for members only
【Clinical Applications】for members only
【Precautions and Contraindications】for members only
【References】for members only
Related Posts